Parks & Trails Wayfinding Strategy
Wayfinding includes all the ways people understand their surroundings and travel from place to place. This is more than signs – it also includes names, landmarks, conventions, maps and new media.
The first two phases are now complete and the City is now undertaking a comprehensive evaluation of the pilot project.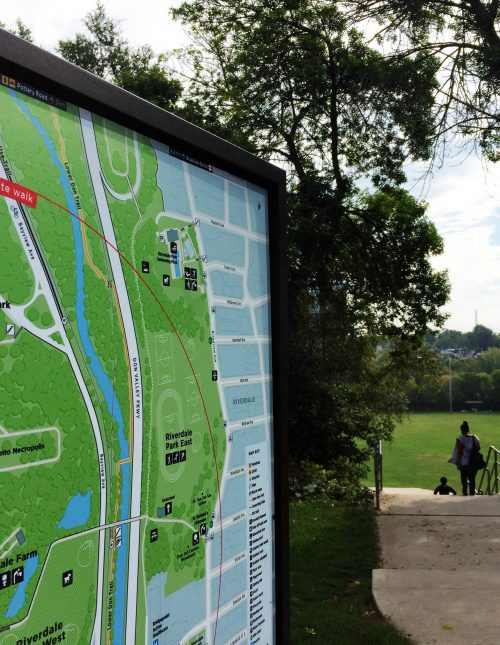 Don Valley Pilot
The signage for the Don Valley pilot was manufactured and installed in summer 2017. The area covered follows the Pan Am Path (Lower Don Trail), from Lake Shore Boulevard to Pottery Road, and includes Riverdale Park (East and West).
The core objective of the Toronto Parks and Trails Wayfinding Strategy is to produce a signage and information system that is consistent, accessible and predictable. It is an opportunity to reduce visual clutter in parks, and encourage the use and discovery of parks and ravines by residents and visitors. It also aims to interpret and extend the strategy and principles of the Toronto 360 Wayfinding Strategy developed by the Public Realm Section of Transportation Services Division to address the unique needs of Toronto's park users.
A coherent wayfinding system also aligns with the City of Toronto's Walking Strategy which "aims to create an environment where walking is an appealing, convenient, safe and stimulating experience for residents and visitors."
The Toronto Parks and Trails Wayfinding Strategy was completed in two phases.
The Signage Family
The new signage family is a modular system that allows for maximum flexibility with the aim to reduce clutter and rationalize information for parks users.
The proposed sign family of six basic product types aimed to maximize impact and effectiveness while rationalizing the number of structures, reducing clutter:
Gateway
Directional
Park Hubs
Facilities
Trails
Interpretation
One of the key features of the signage system is the modularity of the structures information panels which are easily removed and updated to suit specific locations or if a sign structure has been vandalized. The Toronto Parks and Trails design shares many graphic principles with the TO360 system which allows users to seamlessly transition.

Parks Sign – Gateway (Map)
Park signs (green) primary function is to inform users about parks and facilities, support navigation and promote exploration.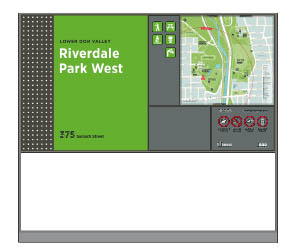 Trail Sign – Trailhead pillar
Trail signs (orange) primary function is to support linear navigation in, along and out of trails, as these are often disconnected from the city with limited entry points and interrupted links.