Housing Occupancy Trends
What is the Bulletin?
The Toronto Profile bulletin "Housing Occupancy Trends, 1996-2011" analyzes patterns in housing supply and demand over a fifteen year period. It examines changing household characteristics and development trends and the impact they have on housing across Toronto.
Trends & Patterns
To gain a better understanding of what types of housing will be needed in the future, the bulletin observes past housing demand patterns using the 1996, 2001 and 2006 Census and the 2011 National Household Survey. It examines the characteristics of households occupying the existing housing stock to determine potential challenges facing future housing demand and supply. What are the ages of the households? How does family composition affect housing? Has there been a shift in the demand for certain types of housing by households of a certain age and type? What does the rental and ownership landscape look like?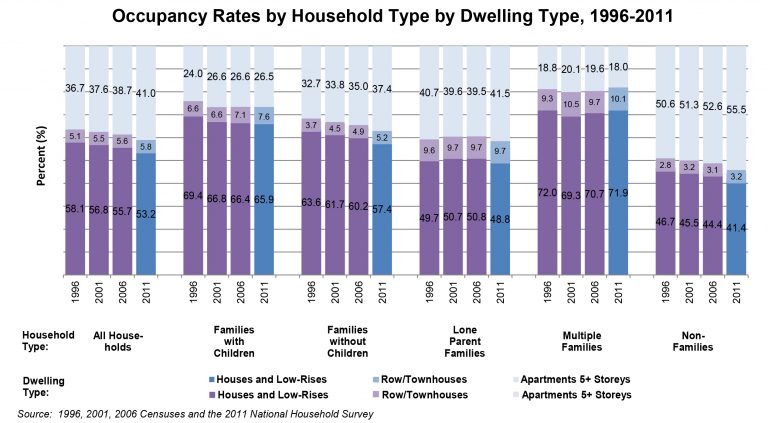 Highlights
Introduction
In the years between 1996 and 2011, the population of Toronto grew by 229,580 people, a 9.6% increase, while the number of households increased by 16%, adding 144,195 new households. Over the next 20 years, Toronto's population is forecasted to reach over three million people.
This population growth combined with the evolution of household composition, introduces several housing challenges, such as increased pressure on existing stock and demand for more units, which will require further densification and creative housing solutions.
Household Growth
The number of households in Toronto grew 16.0% to 1,047,780 households.
The number of high-rise apartments increased by 30% to 430,080, and accounted for 68% of all newly occupied units with a total of 98,150 households.
Age of Occupant
Households 45-64 years of age grew the most, adding 115,750 households for a total of 403,970 households in 2011.
Household growth between the ages of 30-44 years declined by 6.5%. There was a loss of 20,870 households.
In the 30-44 age cohort there was a loss of 31,200 households in ground-related housing.
Families & Households
Family households increased by 66,000 households, although its share of total households decreased.
The share of non-families, specifically one person households, grew from 34.6% to 37.3% with an increase of 78,425 households; this accounted for 54% of the net household growth.
There were 10,145 more families with children living in high-rise apartments representing a 15% increase.
Person per Household
The average number of person per household (PPH) decreased from 2.60 to 2.46.
High Rise Buildings
6 of every 10 units built were in high-rise buildings, yet only 3.8% of these apartments had 3 or more bedrooms.
Size of 3-Bedroom Apartment Unit
The average size of a 3-bedroom apartment unit decreased by 20% between 1996-2014. The average household size of these units remained at approximately 3.0 persons per household (PPH).
Ownership
Household ownership increased with ownership in high-rises contributing the most, an increase of 82,375 units. The proportion of owned units grew by 11% in high-rises, but decreased by 13% in houses and low-rise apartments.
Past Bulletin
A past Toronto Profile bulletin "Trends in Housing Occupancy" provides analysis of changes in household composition and housing occupancy between 1996 and 2006.
Further Information
For copies of the bulletin, please contact Hailey Toft at City Planning by telephone at 416-392-8343 or by email at cityplanning@toronto.ca.