Committee of Adjustment
The Committee of Adjustment is piloting a
redesigned Notice of Public Hearing Sign
in the Scarborough district starting in January 2020. It has a new look and will be printed in a larger format on durable weather-proof material. The redesigned sign will be rolled out across the city later in 2020.
Toronto City Council has appointed a Committee of Adjustment consisting of citizen members. They regularly hold public hearings to consider applications for minor variances and consents. Learn more about minor variances and consent applications.
Applications and Status Updates
Search the City Planning Application Information Centre for active Committee of Adjustment applications and status updates.
---
Public Hearings Schedules
District and Ward Alignment
Etobicoke York – Wards 1, 2, 3, 5, 7
North York – Wards 6, 8, 15, 16, 17, 18
Toronto & East York – Wards 4, 9, 10, 11, 12, 13, 14, 19
Scarborough – Wards 20, 21, 22, 23, 24, 25
Find Your Ward
Use your address to find your ward. Once you know your ward, you can find your district.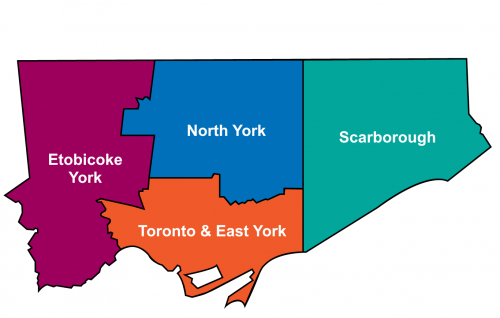 ---
---
Making Your Views Known
You can speak at the public hearing and/or submit written comments. To ensure that the panel members can properly consider your written comments, we strongly recommend you submit your materials by 10:00 a.m. on the Friday before the public hearing.
Submitting your comments in advance will ensure that the panel members have sufficient time to consider your views prior to the hearing. If you submit your correspondence any later, the members will only receive it the morning of the hearing and it leaves them little time to read your submission.
Submission Requirements
Email your correspondence in PDF format to the Committee of Adjustment case manager assigned to the file. Your correspondence, including your name and address, will form part of the public record and will be posted online on the City's Application Information Centre (AIC).
Please focus your comments on the matters listed in the Notice of Public Hearing (i.e., issues related to noise, property maintenance and construction concerns are not matters for consideration by the Committee of Adjustment).