Finch West Goods Movement Study
The City of Toronto is looking at ways to improve commercial shipping and freight transportation in the Finch West area of Toronto.
Over the next four years, Metrolinx will be constructing a new light rail transit (LRT) line on Finch Avenue West from Highway 27 to Keele Street. The LRT will require some permanent changes to the road network, and will affect traffic patterns and potential truck route options.
The City is developing the Finch West Goods Movement Transportation Master Plan (TMP) to consider the LRT related changes, as well as to recommend other opportunities to provide for safe, efficient, and effective transportation of freight in the area.
The study area is bounded by Dufferin Street and Islington Avenue (east-west), and Highways 407 and 401 (north-south). This includes the Emery Village and Duke Heights Business Improvement Areas (BIAs).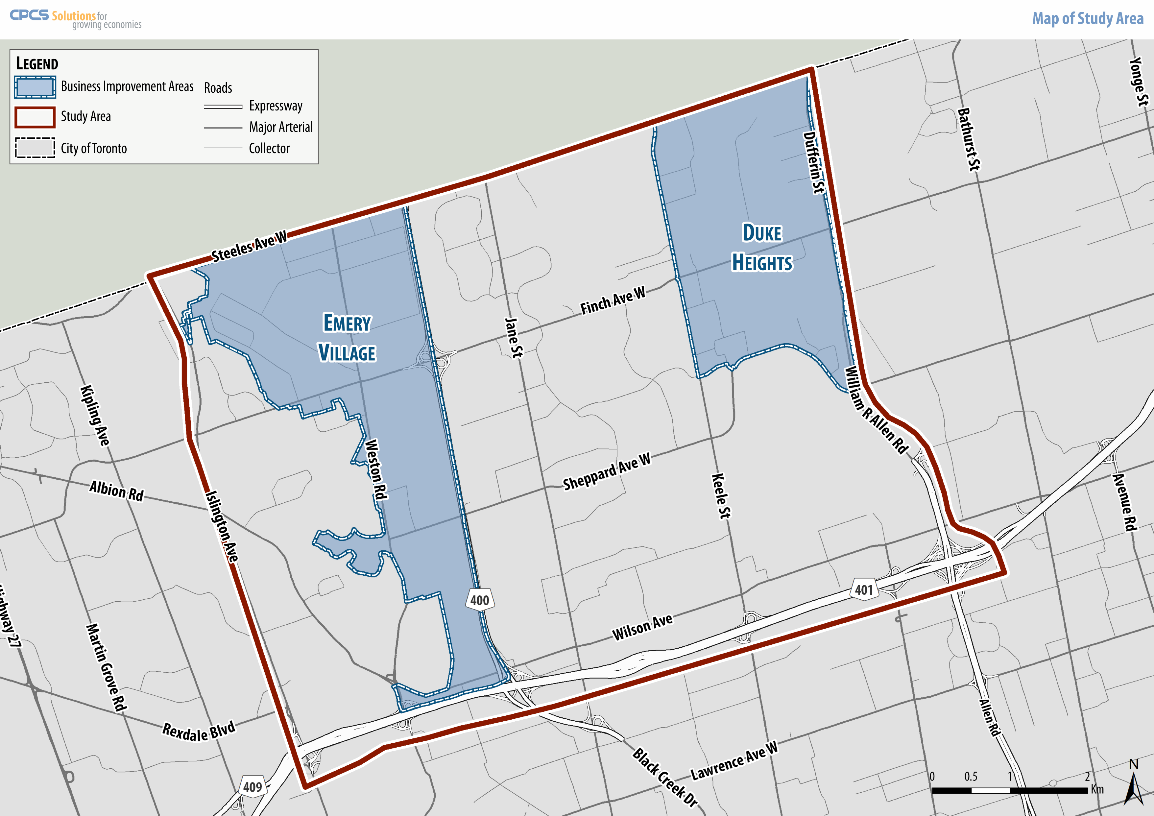 In late 2014, a Truck Technical Working Group was established as part of the Finch West LRT stakeholder engagement consisting of the Emery Village (BIA), the Canadian Fuels Association (CFA) and others. This group met on four occasions and arrived at a consensus to conduct an area-wide transportation study to examine freight-related solutions.
Additionally, a number of other initiatives have also identified potential improvements in the area. This includes the Downsview Area Transportation Master Plan (2016), the Downsview Area Secondary Plan (2010), the Emery Village Transportation Master Plan (2009), and the Emery Village Secondary Plan (2001), among others.
This Goods Movement TMP is being prepared in accordance with the Municipal Class Environmental Assessment (EA) process. The study will identify and prioritize short-term ("quick win" 0-3 years), medium-term (5+ years), and long-term (10+ years) improvements to the transportation network.
Types of Issues for Consideration (Examples)
Congestion/delay
Safety concerns
Non-signalized intersections
Facility access ("final 50 feet")
Highway access
Street grid connectivity
Roadway geometric issues (e.g. turning radius)
Long wait times (queuing) at intersections
Conflicts between different transportation modes
Poor pavement quality
Parking/loading areas
Types of Solutions for Consideration (Examples)
Short-Term

Signal-timing
Way-finding
Pavement marking improvements
Demand management (e.g. time-of-day)

Medium-Term

Turn lanes
Curb radius / geometry adjustments

Long-Term

New connections
New roads
New bridges
Major intersection improvements
Road widening
Truck lanes
A Stakeholder Workshop was held with local businesses on April 11, 2019.
View the presentation materials below (PDFs):
The above documents may not be fully accessible. For accessible formats or communications supports, please contact Edward Presta, Transportation Services, Infrastructure Planning, 416-338-6582  Edward.presta@toronto.ca
Public consultation will be conducted in the coming months.
Contact us to be added to the project email list to receive notice.
The short URL for this web page is: toronto.ca/FinchWestGoodsMovement