John Street Corridor Improvements
The City of Toronto is working to transform John Street into a "cultural corridor" by redesigning the streetscape between Front Street and Stephanie Street. The John Street Corridor Improvements project aims to create a better experience for pedestrians by enhancing the streetscape. These improvements will lead to an environment that is accessible, beautiful and pedestrian-friendly and that accommodates the many events and festivals held along John Street.
Some underground construction work to support the streetscape improvements will begin by utility companies ahead of the city contract for construction work. Toronto Hydro is the first utility partner and will begin electrical and civil work improvements on John Street north of Queen Street and on Queen Street between John and Beverley streets.
May 8, 2018 – north of Queen Street
Toronto Hydro will start underground work on John St, north of Queen. Fencing and signage will guide pedestrians around the work zone.
Road Users will be impacted. The northbound lane on John, north of Queen St will be closed 24/7. The southbound lane will remain open.
Planned Improvements
Widening sidewalks and boulevards.
Reducing the width of the roadway down to one lane of traffic in each direction between Wellington Street and Stephanie Street.
Creating a gentler slope from the curb to the roadway, allowing the street to be used as a plaza space for events during road closures.
Greening the street by planting additional trees.
Installing new paving materials in the roadway and on the sidewalks to add visual interest and calm traffic.
Adding new roadway, pedestrian, event and traffic lighting.
Installing public art.
With these improvements, John Street will become a destination street in downtown Toronto that prioritizes pedestrians, is bike-friendly and hosts many special events and festivals.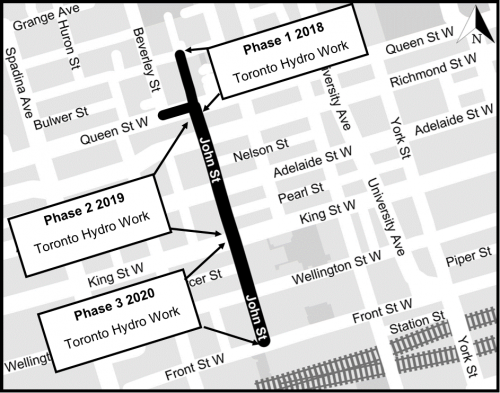 In 2012 the City of Toronto completed the John Street Corridor Improvements Environmental Assessment Study, which included a comprehensive public consultation program. The Environmental Assessment received approval in December 2012 to make improvements to John Street.
View the City Council direction.
The detailed design phase began in 2014 and was completed in 2016. An open house was held April 28, 2015 at Metro Hall. Click here to view the final detail design.