North York Centre South Service Road: Doris Ave. Bonnington Pl. & Tradewind Ave.
North York Centre South Service Road's recommendations and timeline is contingent on the outcome of the
REimagining Yonge Study
 that is currently active.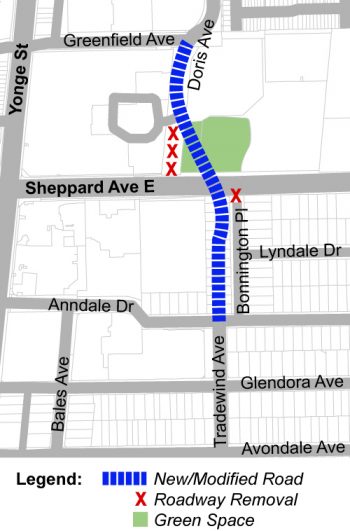 The need for completion of the North York Centre Service Road south of Sheppard Avenue was first established in 1996. After several revised plans the City is now proposing the following:
a single intersection linking Doris Avenue to Tradewind Avenue
the road would bisect the green space north of Sheppard Avenue
Bonnington Place would be converted to a cul-de-sac north of Lyndale Drive
(This design is "Option B" in the study)
Map of the Study Area – Option B
Project Benefits
Facilitate traffic flow and circulation.
Protect residential areas from traffic infiltration.
Improve cyclist and pedestrian mobility and safety.
Support current and future residential and commercial growth.