Port Union Road
The City of Toronto will be widening Port Union Road from Lawrence Avenue East to Island Road. Works will include:
addition of a second northbound lane
complete sidewalks on both sides
bicycle lanes
landscaped median between Lawrence Avenue East and Clappison Boulevard
centre-turn lanes in some locations
When completed this project will address traffic congestion and improve conditions for pedestrians, cyclists, and motorists.
April 2017
The City is beginning field investigations required for the detailed design and construction work. For this pre-engineering phase of the project, a survey crew will be completing a topographic survey of the right-of-way and a geotechnical crew will be obtaining soil samples in various locations along Port Union Road to confirm the conditions below ground. The information obtained from these activities will be used for the engineering design. Construction is expected to commence in 2018.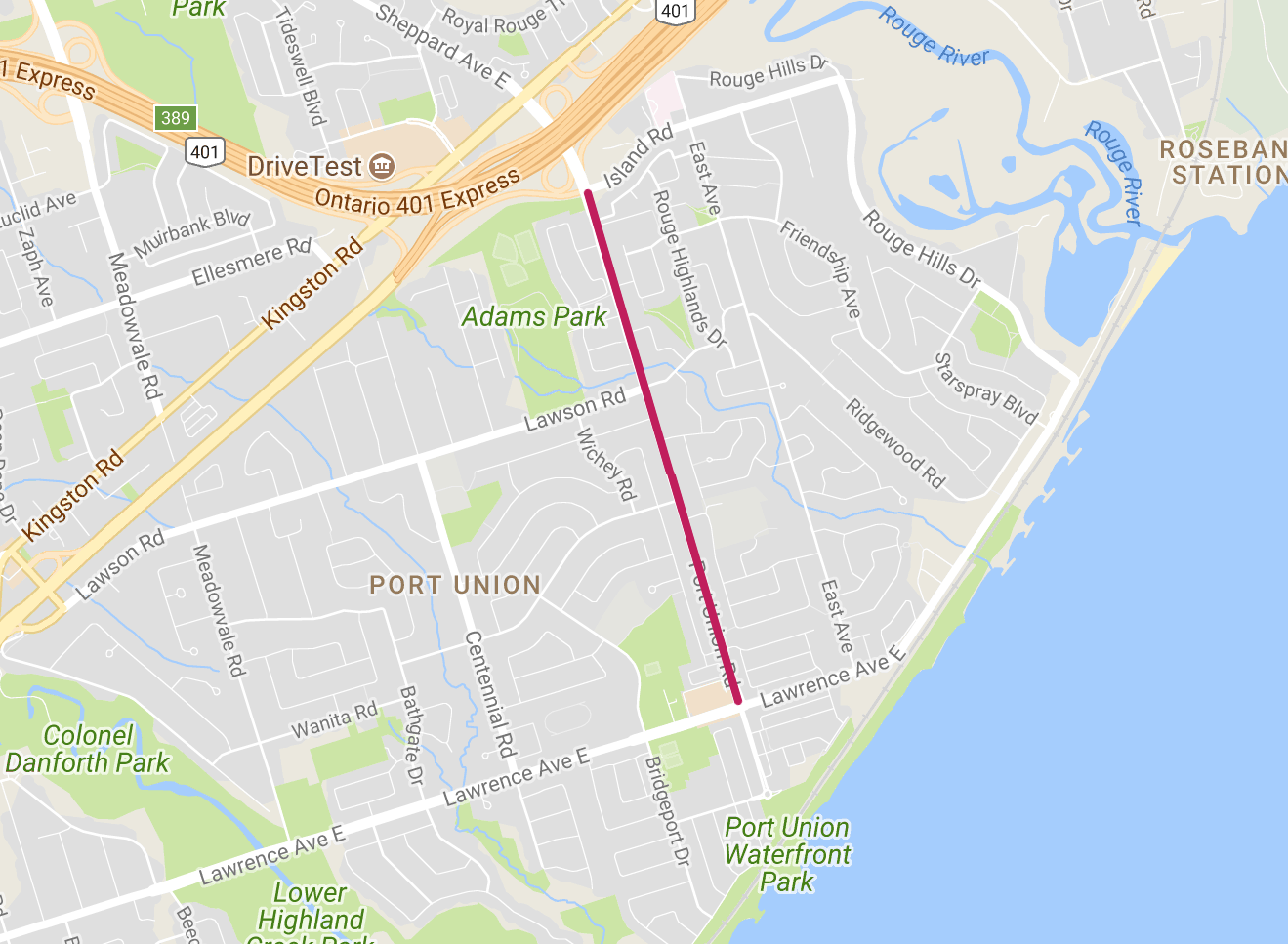 The Environmental Assessment (EA) for this project was planned and approved in 2004.  A subsequent EA Addendum (update) was completed and approved in 2015 and made changes to the original study design in order to reduce property and community impacts.
Environmental Assessment Addendum (2015)
The Addendum (update) to the 2004 ESR was approved by the Ministry of Environment and Climate Change (MOECC) in August 2015.
In consultation with the community as directed by City Council in 2004, the preferred design has been modified in order to reduce property and other impacts to the community, and to meet current City standards and practices. The updated preferred design provides the same level of service as the original design, but includes the following changes:
length of landscaped median reduced (now between Lawrence Avenue East and Clappison Boulevard only)
section of centre left-turn lane removed south of Josaly Drive
private property no longer required
bike lanes widened from 1.5 metres to 1.8 metres
To view the Environmental Assessment Addendum Report, contact Andrew Plunkett at 416-397-1968 or Andrew.Plunkett@toronto.ca.
Original Environmental Study Report (2004)
This Environmental Assessment Study was completed in early 2004 and identified a preferred design which included:
an additional northbound lane on Port Union Road from Lawrence Avenue East to Island Road
a continuous centre left-turn lane on Port Union Road from Winter Gardens Trail to Island Road
a landscaped centre median on Port Union Road from Lawrence Avenue East to Winter Gardens Trail
bicycle lanes on both sides of the road from Lawrence Avenue East to Island Road
additional turn lanes at the intersection of Kingston Road and Port Union Road
complete sidewalks on both sides of Port Union Road
What is a Class Environmental Assessment?
Ontario's Environmental Assessment (EA) program promotes good environmental planning by determining and managing the potential effects of a project prior to implementation.
The EA program ensures that public concerns are heard. EA balances economic, social, cultural and natural environmental needs so that projects benefit Ontario.
This study is being carried out according to the Municipal Class Environmental Assessment process. This is an approved approach to satisfying requirements of the Environmental Assessment Act specifically tailored to municipal infrastructure. The process includes identifying the problem or opportunity to be addressed, developing and evaluating a range of alternative solutions, providing opportunities for public input and identifying a preferred solution.