Willowdale Ave. Reconstruction & Proposed Bike Lane from Bishop Ave. to Empress Ave
This fall 2019, the City of Toronto will be reconstructing Willowdale Avenue from Finch Avenue East to Empress Avenue and potentially installing a new buffered bike lane from Bishop Avenue to Empress Avenue.
WillowdaleAvenue bike lane (cycle tracks) will be presented to the Infrastructure and Environment Committee on June 27, and Council on July 16-17.
If approved by Council, bike lanes would be installed at the end of the road reconstruction work (expected completion November 2019)
On May 13, 2019, the City hosted a public drop-in event at Earl Haig Secondary School.  Over 40 residents participated, where they viewed information materials, spoke with the project team, and provided feedback.
View the information materials presented at the event:
To request assistance reading these files, please contact Jason Diceman at 416-338-2830 or jason.diceman@toronto.ca.
Please submit your feedback by May 27, 2019.
Project Overview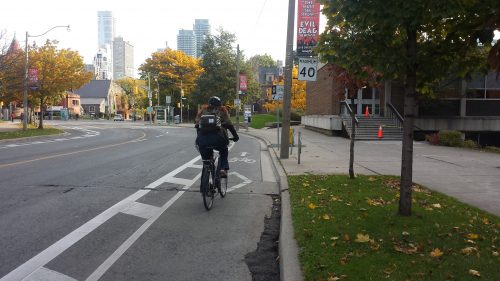 This fall 2019, the City of Toronto will be reconstructing Willowdale Avenue from Finch Avenue East to Empress Avenue and potentially installing a new buffered bike lane from Bishop Avenue to Empress Avenue.
The new bike lane would provide a dedicated space for cyclists, improving safety and comfort for all road users. The bike lane would expand the local cycling network by connecting to the existing Finch Hydro Corridor multi-use trail.
The road needs to be reconstructed and sections of damaged curb and sidewalk need to be replaced to bring them to a state of good repair.
This work is part of the Council-approved 2019 Capital Works Program to renew aging city roads and sidewalks for current and future needs.
Proposed Bike Lanes & Other Safety Improvements
Proposed Bike Lanes
Cycling is one of the fastest growing transportation modes in Toronto. The City is working to make travel by bike safer and more inviting. Making it easier for people to choose to cycle, helps ease congestion on the streets and transit, creates a cleaner environment, and promotes a healthier public.

The proposed bike lane design is to add a one-way buffered bike lane on each side of the street, and maintain the existing single travel lanes in each direction at a reduced width.
The painted buffer (hatched white lines) would provide additional separation between cyclists and motor vehicle traffic.
This design would require the removal of dedicated left turn lanes at Byng Avenue and Empress Avenue – left turns would still be allowed from the travel lane. Traffic is expected to continue to flow as it does now, with a few extra seconds delay at some intersections on occasion.
This design would prohibit stopping or parking along this segment of Willowdale Avenue.
Other Safety Improvements and Changes
In support of the City's Vision Zero Road Safety Plan, pedestrian safety improvements are being made. Intersection corners will be adjusted to reduce turning speeds and tactile walking surfaces will be installed at road crossings.
The existing TTC bus stops will remain but the bus bays at the stops would be removed. Additional street trees may be added – to be determined.
There are no planned changes or expected impacts to Wheel-Trans, emergency services, garbage pick-up or other City services as a result of this project.
What to Expect Before Construction
Work crews will mark sidewalks and curbs requiring replacement and the locations of underground utilities, such as gas, water, and cable so that the construction work does not interfere with these utilities.
Affected properties will receive a Construction Notice approximately two weeks before work begins with more information about the work.
Work in the boulevard in front of homes and commercial properties is expected. This work includes removing and replacing driveways, municipal sidewalks, and grassed boulevards, where necessary.
Property owners should remove items located within City property limits (boulevard), such as landscaping and / or decorative objects before work starts. If you have a sprinkler system within the boulevard, please contact the Project Manager that will be listed on the notice prior to construction.
During construction, the road will be closed to northbound traffic.
Accessible Accommodation:
Residents who require accommodation (level entry, longer notice, etc.) must contact the consultation coordinator to arrange for access during the construction period. Contact information will be provided on the notice prior to construction.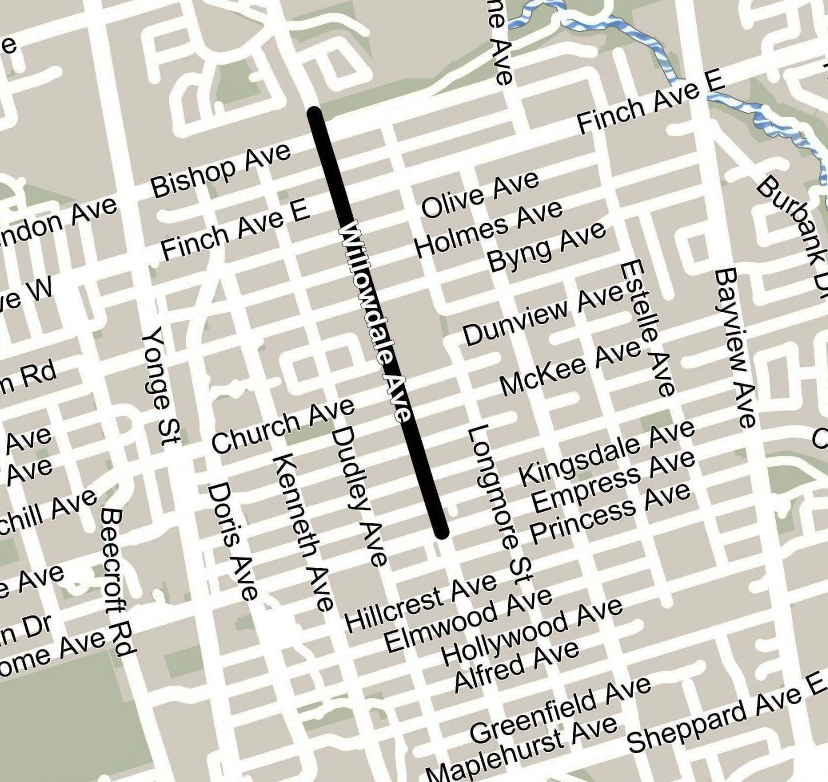 The short URL for this page is toronto.ca/cycling/willowdale