Community Stewardship Program
The program will begin April 29, 2019. An orientation session will take place in April. Check back later for the exact date. 
Contact us
 for more information.
Opportunity Details
Participants in this program help to care for natural areas across the city, with teams that meet weekly from April to September. As a volunteer you will:
learn about native trees, shrubs, herbaceous plants, invasive species, ecological monitoring and more
participate in additional training workshops
learn about sustainable trail design (Crothers Woods team)
meet new people, gain new friendships and network within the community
gain experience, leadership and interpersonal skills
acquire documented volunteer hours (if requested)
Where
Stewardship sites in 2019: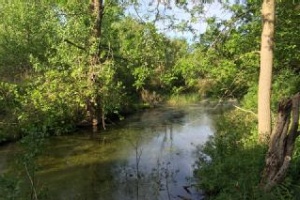 Beechwood Wetland is located along the Lower Don Trail, near Broadview Avenue and O'Connor Drive. The area was identified as an ideal location for restoration due to the potential for significant improvement to both land and aquatic habitat quality. This restoration project demonstrates the enormous value of wetlands, particularly in an urban environment. Interpretive signage, tours and community participation contribute to this site'Äôs educational value.
History & Ecological Restoration
Over the years there has been a great deal of ecological disturbance around the Beechwood area due to urban development, including the construction of the Don Valley Parkway, oil and gas pipelines, hydro corridors and industrial activities. The environmental degradation of the area allowed non-native invasive plant species to out-compete most of the stressed native plant populations. The disturbed habitat also meant that native wildlife populations diminished.
The City of Toronto began restoration efforts in 2002 in order to re-establish native habitat, as well as increase water storage and improve local water quality. The Beechwood Wetland restoration project involved the enhancement of an existing pond, removal of non-native invasive plants, and planting of native trees, shrubs, herbaceous and wetland plants. Ongoing stewardship activities help to monitor and maintain the site. Since restoration began, native vegetation has established and diverse wildlife has returned to the site.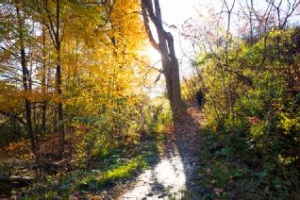 Located in the Don River Valley, Crothers Woods contains a unique forest habitat with approximately 10 kilometres of natural surface trails running through it. From these trails you can observe native vegetation and wildlife, as well as enjoy a hike or mountain bike ride in the heart of East York.
History & Ecological Restoration
Despite the pressures of urbanization, parts of Crothers Woods contain a great diversity of herbaceous plants and tree species, similar to what was in the area before European settlement. In 1995 the Toronto Region and Conservation Authority (TRCA) designated Crothers Woods an Environmentally Significant Area (ESA) due to its relatively undisturbed woodland habitat, and the area was adopted as an ESA in Toronto's Official Plan in 2015. This area is home to many mature trees, including some that are over a century old, as well as some plant and animal species that are rare in the Toronto area.
While Crothers Woods has a healthy canopy, much of the understory was lost due to past unmanaged recreational uses. The popularity of the site for recreational use poses a risk of further habitat disturbance. Environmental impacts of public use of this natural area were addressed by the City of Toronto through the Crothers Woods Trail Management Strategy. The Strategy outlines ways to restore and protect the area in order to maintain existing natural heritage features, create safe, logical, and sensitive trail systems, and improve park user safety. The City of Toronto has worked with volunteers to control invasive species, maintain trails and encourage trail users to enjoy the area responsibly.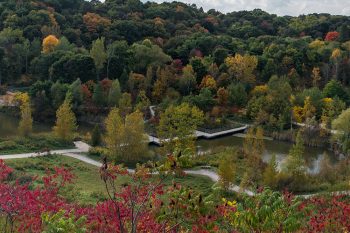 Located in the Lower Don River watershed, Don Valley Brick Works Park is a shining example of the power of ecological restoration work. This former industrial site now contains a number of different habitat types, including wild flower meadows, woodlands, wetlands, and steep cliff faces. The City of Toronto has established a network of trails throughout the site so that visitors can enjoy the diversity of plant and animal life that now flourishes in this park.
History & Ecological Restoration
From 1889 to 1989, Don Valley Brick Works Park was the site of a large-scale brick making and distribution operation. Bricks were forged using water from Mud Creek and clay from the Brick Works quarry. The bricks made at this site are used in buildings throughout Toronto, including Casa Loma, Massey Hall, the Ontario Legislature, parts of the University of Toronto's St. George campus, and numerous private homes.
In 1989 the Toronto and Region Conservation Authority (TRCA) acquired the Don Valley Brick Works site, and in 1995 the City of Toronto and TRCA began restoration work. A series of wetland environments have been constructed to provide habitats for aquatic plants and wildlife, as well as to allow Mud Creek (a previously buried Creek) to be filtered naturally before it flows into the Don River, and ultimately Lake Ontario. With the help of dedicated volunteers and strong partnerships with external groups, the City of Toronto has successfully introduced wetland, dry wildflower meadow, and forest plant communities to different parts of the Don Valley Brick Works site, creating a variety of ecosystem types.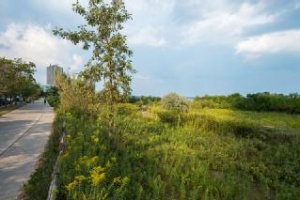 The Humber Bay Butterfly Habitat (HBBH) is an ecological restoration project which provides critical habitat for a variety of native butterfly species, including the Monarch butterfly. Located in Humber Bay Park East along the Waterfront Trail in Toronto's west end, HBBH incorporates a diversity of plant species and physical features known to support butterflies throughout their life cycles.
History & Ecological Restoration
What is now the Humber Bay Butterfly Habitat was once a barren piece of land created by the deposition of lakefill by the Toronto and Region Conservation Authority (TRCA) at the mouth of Mimico Creek. The newness of this area provided an opportunity for naturalization in an area experiencing urbanization, and through inter-agency, federal, provincial and volunteer efforts the land was transformed into habitat for butterflies and other wildlife. The area is now comprised of many different plant communities, including wildflower meadow, short grass prairie, woodland, and wetland.
The Humber Bay Butterfly Habitat opened in 2002 and a key component of the success of the project was the involvement of volunteer stewards. Dedicated volunteers have played a very large role in restoration efforts through planting native wildflowers, shrubs, trees, grasses and sedges, as well as removing invasive species and monitoring the plant and wildlife communities in the park.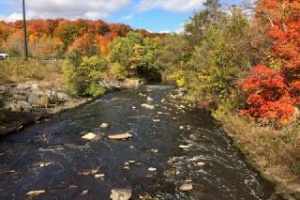 Located at the south-east corner of Lawrence Avenue and the Don Valley Parkway, Milne Hollow is the northern gateway to the Charles Sauriol Conservation Reserve in the floodplains of the East Don Watershed. This peaceful refuge from the hustle and bustle of the city is close to the Rainbow Bridge which is easily spotted when heading north on the Don Valley Parkway. With parking available off of Lawrence Avenue East, and acting as an access point for the East Don Trail, it's easy for visitors, cyclists, and pedestrians to enjoy this urban oasis.
History & Ecological Restoration
Agriculture, industrialization, and renaturalization have all left their marks on Milne Hollow, as this unique site has had many different lives throughout the years. In the late 1800s Milne Hollow was the home of a mill village where wood and wool were processed. The area was then transformed to serve the Don Valley Ski Club in the mid-1900s. The heritage farmhouse known as Milne House, and the remains of a ski lift are still present at the site as evidence of this area's interesting history.
Restoration efforts by the City of Toronto in Milne Hollow have been occurring for decades. The numerous projects aimed at restoring this site to a natural environment area have facilitated the coexistence of forest, river, meadow and wetland ecosystems, providing a variety of ecological services. Ongoing work by the City of Toronto and volunteer stewards have helped reduce non-native invasive plant populations and establish native species in their place. Milne Hollow is also one of City of Toronto's Bird Flyways sites, a project to enhance bird habitat along migratory corridors. Many different species of wildlife now frequent the area and enjoy the native habitat.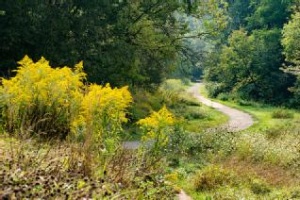 The Nordheimer Ravine runs south-east from St. Clair Avenue West near Bathurst past the south end of Sir Winston Churchill Park to Roycroft Park. This stretch of ravine parkland is a quiet natural environment park where people walk their dogs, jog or go for leisurely strolls, and enjoy the forest around them. This area contains one of the finest stands of old oak trees in the city.
History & Ecological Restoration
Historically, Nordheimer Ravine was the home of Castlefrank Brook, which ran southeast, down through Rosedale Valley and eventually into the Don River. In the mid-1970s the stream was buried when the Spadina subway line was built. Even though the original creek now flows inside a storm sewer there are still many places along the valley slope where ground water seepage causes wet pockets to appear at the surface. This feature is one of the reasons why Nordheimer Ravine has been the focus of several ecological restoration projects.
Restoration efforts began in 1997 when ponds were created by the City of Toronto to collect water in some of the wetter sites within Nordheimer Ravine. Over the years volunteers have helped to plant trees, shrubs and many native terrestrial and aquatic herbaceous plants. Ongoing work by the City of Toronto, as well as volunteer stewards, has helped keep non-native invasive species at bay and allowed native species to flourish. The ravine has become a popular stopping point for many birds and other wildlife.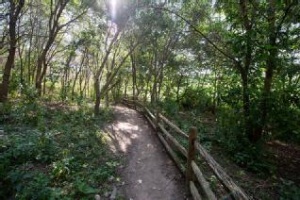 This 18 hectare park near Danforth Avenue and Broadview Avenue contains many recreational facilities, but also includes a naturalized area at the north end of the park. Recreational trails running through the park provide a perfect way to view the native vegetation and wildlife that now call Riverdale Park East home.
History & Ecological Restoration
The north side of the park was once just a grassy slope, but in 1990 the City of Toronto and Taskforce to Bring Back the Don planted native trees and shrubs. The slope has since developed into mature maple-ash woodland. In 2002, a small marsh was added at the bottom of the slope to collect and clean storm water and provide habitat for native plants and animals. An eroded hillside path was replaced with a rock lined trough that directs water to flow into the wetland area. Volunteers have helped to plant trees and shrubs in the marsh site, as well as native flowers, sedges, and rushes. Having a wide range of diverse habitats is very important to provide our natural areas with resilience against the establishment of invasive species, as well as provide us with other more extensive ecological services.
How to Apply
Contact us at greentoronto@toronto.ca for registration forms and program information.
Participants must be 14 years of age or older unless accompanied by legal guardian.