Nuit Connects
Established in 2019, Nuit Connects is a relationship-building, mentorship and knowledge-sharing program. Inspired by the solid and impassioned commitment to community, mentorship and reciprocity demonstrated by Scarborough participants in the inaugural Nuit Blanche in Scarborough (2018), the program offers an opportunity for shared and reciprocal growth and learning experiences.
Nuit Connects is a partnership between the City of Toronto, Doris McCarthy Gallery, and the department of Arts, Culture & Media at the University of Toronto Scarborough.
This year's Nuit Connects artist is Whyishnave Suthagar.
2022 Artist: Whyishnave Suthagar
2020 Artist: Mark Stoddart
Mark Stoddart combines his passion for music and sports, with a consistent spirit of social activism and a life-long commitment to educate, empower, and unite. Born in the United Kingdom to parents of Jamaican heritage, he moved to Scarborough as a young boy. Mark's career as a visual communicator, graphic designer and painter have spanned over three decades, and Mark continues to present a variety of works that illustrate the history of Black athletes, entertainers, and public figures. Mark studied formally through the Interpretive Illustration program at Sheridan College in Oakville.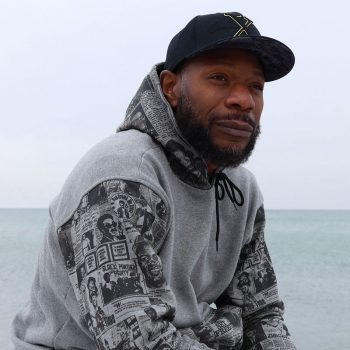 He has done projects with corporate brands like Cadbury, Nike, Universal Music, and Much Music and his designs appeared on clothes worn by NFL star Colin Kaepernick, singer Maimouna Youssef aka Mumu Fresh and Canadian hip-hop artists Maestro Fresh Wes and Kardinal Offishall.
His artwork has been exhibited at Nuit Blanche, The Spoke Club, Society of African Canadian Artists, The Sport Gallery, The Gladstone Hotel, Toronto Design Xchange, Easter Seals Kids, DeRo Foundation, CBC Radio to name a few. Mark's art collections have also belonged to Masai Ujiri President of the Toronto Raptors, NBA player Tracy McGrady, Director Spike Lee, WNBA player Tammy Sutton Brown and 1968 Olympian Dr. John Carlos who silently protested with his raised fist on the podium in Mexico City.
Mark's community advocacy has also included volunteer, speaking engagements, and other visual contributions to local schools and organizations.
2019 Artist: RISE Edutainment
R.I.S.E. Edutainment creates safe and inclusive spaces for youth and emerging artists to express themselves in a positive way. Through their Edutainment methodology, they empower performance artists to create meaningful art rooted in self knowledge and self expression. They believe art has the power to transform the lives of many youth we often see lost to the system and its streets.
Their programs provide youth with platforms to perform, learn and develop leadership skills. The model encourages youth to dive deep into their stories while using art as a cathartic practice to explore their vulnerability and create room to best deal with their mental health.
Safe platforms encourage self-expression and self reflection. In many cases it is an opportunity for youth to experience the power of community healing through art and vulnerability.