Avataq
Artist: Couzyn van Heuvelen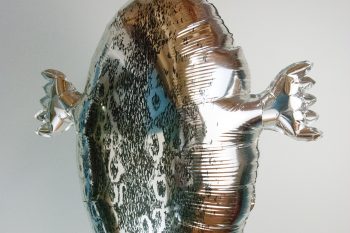 A reimagining of the avataq – a traditional float made from one full sealskin, inflated with air, plugged and tied off.
The Project
The avataq is an important tool used in conjunction with a harpoon in traditional Inuit hunting practices. It allows hunters to track and tire marine animals in order to catch them. This work relies on the shared similarities between the avataq and foil balloon to bring together the connotations both objects carry. It calls attention to a location or event by taking an inviting and accessible form, and is a way to celebrate Inuit culture and traditions.
The Artist
Couzyn van Heuvelen is an Inuk artist originally from Iqaluit, Nunavut. His work is primarily sculpture- and installation-based and explores Inuit culture and identity, new and old technologies, and personal narratives. While rooted in the history and traditions of Inuit art, Heuvelen strays from established Inuit art making methods and explores a range of fabrication processes.