Healing Bears
Artist: Jordan Stranger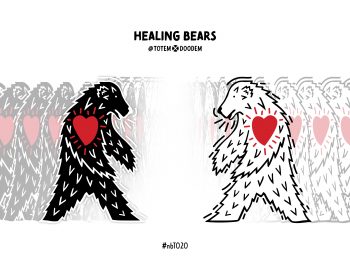 This work explores the relationship between human and non-human relationships of care.
The Project
This work is created to graphically communicate that we help the community and we can heal these communities through the power of the transformation of this animal. The two bears are looking at whoever is standing between them and giving them healing, filling the space between them. The artist is from the Bear Clan, and explains that he knows this to be common practice. We help the community. We heal them.
The Artist
Through pencil, paint, or digital platforms, Jordan Stranger communicates the importance of life, culture, and acceptance. His works are deeply rooted in the traditions of his Indigenous culture. As an Oji-Cree individual, Stranger uses his life experiences to drive his artistic passions. He works in his community curating exhibitions, creating murals, and facilitating art workshops for youth and adults.