Knowledge Flows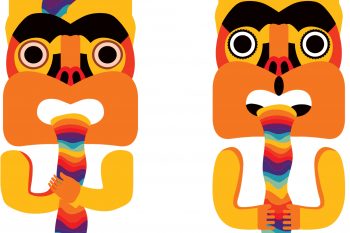 Artist: Dr. Johnson Witehira
Using forms to play with tiki figures and its relationship to the river.
View "Knowledge Flows" on iOS*
The Project
These new digital works are inspired by a saying on my ancestral river – "Ko au te awa, Ko te Awa Ko au" – meaning I am the river and the river is me. For my people, the river is life. It connects to our families and other tribes along its route, and it is the source of much of our food. Our health and our whole world view is connected to our river.
The ancestral tiki forms within these works reference the specific type of carving found along the Whanganui River. Here, the image of a figure holding his tongue symbolically speaks of how we do not share our knowledge. The prolific use of large carved mouths and tongues in Māori carving also talks about the oral transition of knowledge in Māori culture. The tiki, stacked one atop another, talk about whakapapa, ancestral connections to ancestors and to the land.
The Artist
Dr. Johnson Witehira (Tamahaki, Ngā Puhi, Ngāti Haua) explores how a Māori world view and narrative can be used to shape all aspects of art and design in Aotearoa. He has worked on projects that range from the first Māori-alphabet block set for children to collaborations in theatre, book cover design, fashion, museums, and Māori typeface. Witehira's work has been shown both locally and internationally.