Never Surrender
Artist: Joi Arcand
This sign is written in Cree syllabics and was created in solidarity with all nations defending their lands against colonial occupation and to acknowledge that all lands are Indigenous.
View "Never Surrender" on iOS*
The Project
The words remind us to "Never Surrender," which is also the title of a song by Corey Hart: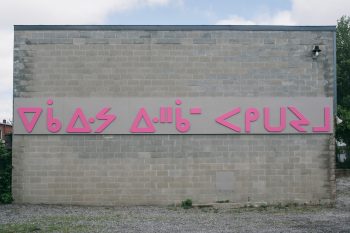 "And when the night is cold and dark
You can see, you can see light
No one can take away your right
To fight and to never surrender
To never surrender
The time is all you're asking for
Stand your ground, never surrender
I said
You never surrender"
The sentiment is displayed as a monumental, bright pink sign so that it cannot be missed while simultaneously asserting the presence of Indigenous language on the urban landscape. The work continues my exploration of creating objects "out of time" by translating a well-known 1980s Canadian pop song into the Cree language and recontextualizing the lyrics as an anthem of Indigenous sovereignty.
The Artist
Joi T. Arcand is an artist from Muskeg Lake Cree Nation, Saskatchewan, Treaty 6 Territory, currently residing in Ottawa, Ontario. Arcand's practice includes photography, digital collage, and graphic design, and is characterized by a visionary and subversive reclamation and indigenization of public spaces through the use of Cree language and syllabics. In 2018, Arcand was shortlisted for the prestigious Sobey Art Award.