Skin Deep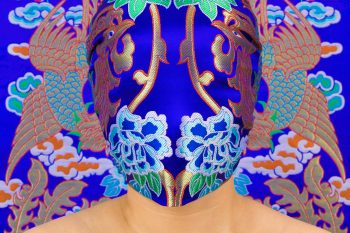 Artist: Chun Hua Catherine Dong
Performing self-portraits explore the concept of the face in relation to Asian shame culture.
The Project
Chinese shame is rooted on the concept of face. Shame is used as a tool of social control and harmony, as a way to prevent citizens – especially women – from acting in ways that might disrupt the status quo. In "Skin Deep," Dong translates the word "shame" into a cultural symbol. She creates a series of ID-card photographs by concealing her face in Chinese symbolic silk fabrics. The act of masking is a performance of submission to the powerful effects of shame. Dong obliterates her own individuality while being completely absorbed into a cultural identity. The work refers both to the quality of being seen only for her Chinese background as an immigrant in Canada, and the lack of acknowledgement of her full personhood as a girl in China.
The Artist
Chun Hua Catherine Dong is a Chinese-born, Montreal-based artist working with performance, photography, and video. She has exhibited her work and performed in multiple international venues and festivals. Dong was the recipient of the Franklin Furnace Award in 2014 and was named Artist of the Year at the DongGang International Photo Festival in 2018.