Takuahiroa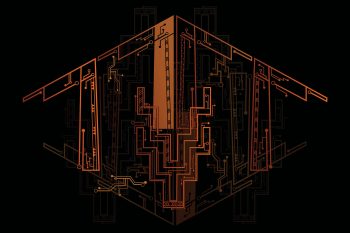 Artist: Kaaterina Kerekere
This body of work makes reference to a wide range of traditional knowledge learning protocols, practices, and systems, including the terminology of genealogy – tracing, mapping, retaining, and passing on of traditional tribal and sub-tribal knowledge and history.
The Project
This work essentially became a tool – a digital repository of Kerekere's genealogy and tribal and sub-tribal stories and histories that she has been fortunate to have learned from her elders. This process highlighted the evolution and innovation of traditional knowledge systems…or…, sometimes she thinks to herself, … is it that we actually are still catching up to the innovative practices of our ancestors? We are the ones behind the times.
The Artist
Kaaterina Kerekere is primarily a digital artist working in the graphic design and animation fields. She also works in painting and fine metal adornment, regularly moving between media to challenge and reinforce concepts of transition, innovation, and interpretation of traditional knowledge and learning. She co-runs KE Design, a creative art and design consultancy specializing in Maori design.