Tāne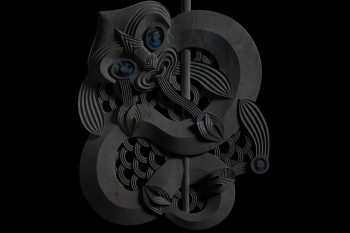 Artist: Kereama Taepa
This work pays homage to the innovator, the space maker, the creative…
The Project
Tāne is a prominent atua (deity) within Māori cosmological narratives. He is a son of Papatūānuku (Earth Mother) and Ranginui (Sky Father), and is the one who split his parents apart in order to create the world of light. A number of his brothers tried to do this but to no avail. Only Tāne was able to split them apart as he was innovative in his approach – he was creative.
The artist explores notions of innovation through emergent technologies in order to extend the customs/traditions of the past. Indigenous cultures the world over are not static – Indigenous people are explorers and innovators who have always created new spaces in response to our everchanging environment – innovation is tradition.
The Artist
Kereama Taepa holds a Master of Māori Visual Arts from Massey University. His involvement in the arts has been broad. Taepa has been a bronze technician at the Dibble Arts Foundry and participates in various Māori arts symposiums, workshops, and hui. He has exhibited his art nationally and internationally and has works in collections across New Zealand and abroad.