The Beauty Within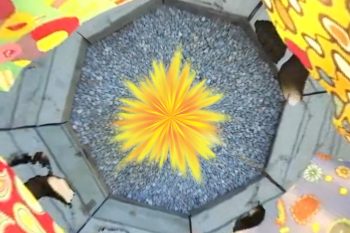 Artist: Cheryl L'Hirondelle
"The Beauty Within" is a VR music video by Halfbreed/Cree interdisciplinary artist Cheryl L'Hirondelle and friends.
View "The Beauty Within" with YouTube App*
* Tips on how to access the augmented reality and virtual reality projects on your device.  
The Project
The setting for this work is what L'Hirondelle imagines it would feel like to be closely encircled by women round-dancing around a viewer. Shortly before she began production, she had the honour of visiting with Knowledge Keeper Maria Campbell, who relayed an important teaching about the multipurpose uses Métis kitchen tables offer – above, around, and even below.
Viewers find themselves enclosed beneath what could be a table with multicoloured tablecloths; but looking up, they see a drum being rhythmically hit. Looking around in this environment, viewers see fabric skirts and feet moving in a clockwise motion to the rhythm of the drum and hear a song sung in unison. Looking down, an animated flame glows, and every now and then glimpses of the inside of a tipi are visible that further encapsulate the dancers, the drummer, and viewers. The hook line of the song is "the beauty within shall shine forever, the beauty within shall shine forever…," and it becomes apparent that it is the viewer who is being sung for.
Acknowledgements
The song, composed and recorded in 2008, is the first from the project, Why the Caged Bird Sings, a participatory and community engaged five-day songwriting workshop that involved small groups of incarcerated women and men and detained youth along with their literacy educators or cultural programmers inside federal prisons, provincial correctional centres or municipal detention centres. The artist acknowledges the song co-writers: Tracey Gamble, Maggie Sewap, Shelene Holcomb, Michelle (Baldy) March, Karen Moocheweines, Angela Rabbitskin, Lisa Smith and Carla Johnson. The research project Culture Sensorium: an Ethnography of the Senses (Jennifer Biddle, PI) – University of New South Wales, Rob Lawther – EPICentre (Expanded Perception & Interaction Centre) Sydney and video editor Samay Arcentales, Toronto.
The Beauty Within © 2008 SOCAN / Miyoh Music Inc.
The Artist
Cheryl L'Hirondelle (Cree/Halfbreed; German/Polish) is an interdisciplinary artist, singer/songwriter, and critical thinker. Her work investigates and articulates the dynamism of nêhiyawin (Cree world view) in contemporary time-place, incorporating audio, video, VR, olfactory sense, music and audience/user participation to create immersive environments toward 'radical inclusion'. As a songwriter, L'Hirondelle focuses on sharing both nêhiyawêwin (Cree language) and Indigenous song-forms and personal narrative songwriting as methodologies toward survivance.