Transatlantic VR
Artist: Caroline Monnet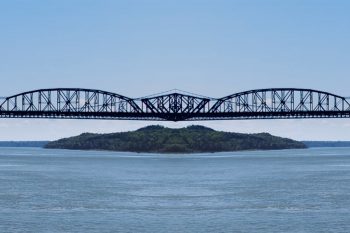 In 2012, Monnet boarded a ship docked on the coast west of Amsterdam. What ensued was a twenty-two-day voyage across the Atlantic Ocean, documented by the artist via handheld Mini DV.
View "Transatlantic" with YouTube App*
* Tips on how to access the augmented reality and virtual reality projects on your device.  
The Project
"Transatlantic" centred around this journey, becomes a narrative for upending perspective, as well as for the transmission of information across impossible divides. Monnet critiques the colonial, industrial, and economic interchange between Canada and Europe as an Indigenous woman. She speaks to the interconnectedness and the diversity of views that shape our place in the world, shedding light on the historical and cultural complexities of our contemporary colonial context. Monnet grew up in Outaouais, Quebec and in Brittany, France, and this work draws upon her time spent on both sides of the ocean.
The Artist
Caroline Monnet is an Algonquin multidisciplinary artist from Outaouais, Quebec. Her work has been programmed internationally and is included in numerous collections, including the Quebec Museum of Fine Arts, the National Art Gallery of Canada, RBC Royal Bank, and the Museum of Contemporary Art, Montréal. In 2016, she was selected for the prestigious Cinéfondation residency in Paris. Monnet is represented by Division Gallery.