A Call to Kāinga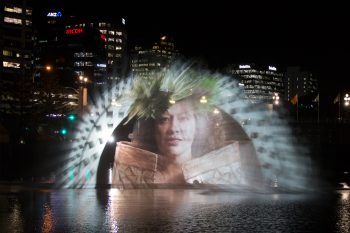 Artists: Dr. Karlo Mila and Michael Bridgman
The Project
This collaborative work returns to alternative ways of moving through time and space, recalling and reclaiming ancestral philosophies of the Moana as a way forward. We have received comprehensive scientific information about the environmental crisis at home, across the globe, under water, and in the atmosphere. It is clear that there is a direct threat that everything we depend upon will no longer be able to sustain life.
Dr. Karlo Mila is of Tongan and Pākeha descent, and both her poetry and scholarship focus on the personal and political realities of Pasifika identity. Her postdoctoral research "Mana Moana" has served as the backbone for Indigenous Pacific leadership programs and wellbeing interventions. She is currently the Program Director of the Mana Moana Experience at Leadership New Zealand.
The Artists
Mike Bridgman (Tonga, Ngāti Pākeha) is a multidisciplinary digital artist. He works in many different industries, including film, television, web, video games, music videos, public installations, festivals, fashion shows, museums, experiential live shows, interactive performances and projection mapping. As a first-generation digital director, he has been at the forefront of digital arts design evolution.
Dr. Karlo Mila (Tongan, Pākehā) is an award-winning poet, mother, writer, activist, and researcher. She is the Program Director of the Mana Moana Experience at Leadership New Zealand. The kaupapa of this programme is to vitalize and prioritize Pasifika ancestral knowledge in contemporary contexts. Karlo lives in Tāmaki Makaurau with her three sons.