Awakening
Artist: Camille Turner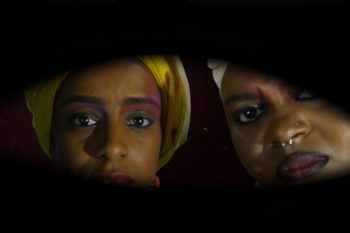 Join Gloria Smith, an inadvertent time traveller, on a mission to travel back in time to stop transatlantic slavery.
The Project
"Awakening" engages with ideas about Canadian identity and Diasporic identity. It challenges the unspoken binary between "real Canadian" and "diverse other" that is present in our ideas about multiculturalism and other cultural narratives. Through the central character, Smith, a Black woman from present-day Canada, this work examines and exposes Canada's active role in the transatlantic slave trade.
During her mission, Smith encounters two African Diasporic travellers on a spaceship in the future. Smith has ruptured the security of the spaceship and has bypassed the rules of space-time to ask for their help in carrying out her plans. The two contemplate the stakes and implications of Gloria's mission and argue about whether or not to help her.
Turner uses new media and technologies to create and explore narratives about the future that focus on Black characters and are rooted in African Diasporic experience.
The Artist
Camille Turner is an explorer of race, space, home and belonging. Straddling media, social practice, and performance art, she has presented her work throughout Canada and internationally. Turner is the founder of Outerregion, an Afrofuturist performance group. She has lectured at various institutions across Canada and is currently a PhD candidate at York University.