#BlueGirl and SuperNova
Artist: Rah Eleh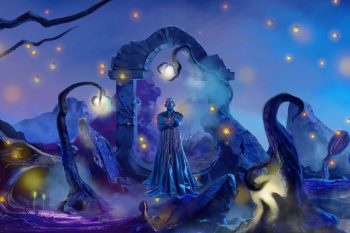 "SuperNova"
Performed as a talent show parody, "SuperNova" sets an ideal stage to critically examine race and ethnic performance. Join the artist on an ethnofuturist and world-making voyage.
The Project
"SuperNova" examines the sociopolitical, temporal, linguistic, and spatial factors that contribute to the formation of identity. Its digital environment and green screen aims to expose the construction and fixity of identity categories. In this work, the artist challenges the eurocentric cultural gaze that represents eastern subjects as stagnant and frozen in time, supposedly untouched by modernity.
Oreo, Fatimeh and Coco are participants in this talent show. They perform in the galaxy Messier 82 and present their talent in front of a panel of judges: Sirius, Mira, and Bellatrix.
#BlueGirl
This work helps audience to better understand the historically elevated rates of self-immolations involving young women in the middle east and Persian speaking countries in central Asia through the lens of survivors' stories.
The Project
The majority of self-immolations involving women in the middle east and in Persian speaking countries in central Asia occur in the midst of a family dispute, follow a number of repeated threats, and involve questions of forced marriage and domestic violence.
Rah has created an immersive tableau where the eye can shift around the image and the performers can all be in dialogue with one another. The environment carves a space for these women in the future – a time and space that, for many of these women, is unavailable or foreclosed. Rah proposes a new dimension where their collective existence and resistance is honoured.
With sensitivity and compassion, Rah sheds light on women's stories and their testimonies. She offers up a medium through which the public can grapple with the complexities of their lives and struggles.
The Artist
Rah Eleh is a media and performance artist who has exhibited extensively both nationally and internationally. She is the recipient of numerous awards and residencies, including a Chalmers Arts Fellowship, Canada Council Grant for Film, SSHRC Canada Graduate Scholarship, ArtSlant Georgia Fee Residency (Paris) and the Studio Das Weisse Haus Residency (Vienna).