Indigenous Fashion Week
Artist: Sage Paul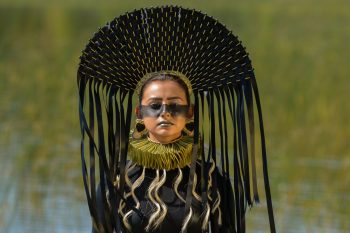 This large-scale fashion exhibition features the work of seven Indigenous women artists working in fashion, craft and textiles from Canada, the USA, New Zealand and Norway.
The Project
This showcase will illustrate the theme "The Space Between Us" through an understanding of space as time. At Indigenous Fashion Week Toronto (IFWTO), connection to time is seen through sustaining ancestral practices of hide tanning, weaving, making, and wearing. This project connects the past, present and future. The presentation will take the form of a live performance in a 4D holographic projection of an inverted forest and river. The 4D hologram is technology that suggests an image of the future. Over 12 hours, designers' collections will be animated through dance, and hourly musical performances will influence a changing perception of expression, culture, and place in time.
The intersection of Yonge St. and Dundas St. will be transformed into a digital forest using 4D hologram projection technology. The holograms will be pre-recorded and performed through dance. At Nuit Blanche 2021, the 4D holographic films will be presented alongside live models, live music, and video portraits on the Yonge and Dundas Square digital billboards.
Acknowledgements
IFWTO is partnering with the GLAM Collective to participate in the GLAM incubation program, "Matriarchal Makers." This incubator program will offer support to IFWTO to create and present this multidisciplinary fashion presentation.
The Artist
Sage Paul is an urban Dene woman and a member of English River First Nation. Born and based in Toronto, Sage is an award-winning artist, designer, and recognized leader in fashion, championing family, sovereignty, and resistance for balance. Sage is the co-founder and Artistic Director of Indigenous Fashion Week Toronto.