Ka puna te wai, ko te kāwai puna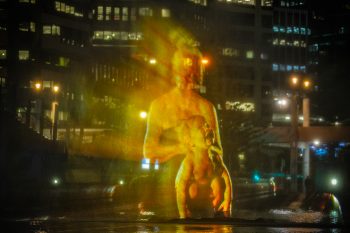 Artists: Rachael Rakena (Ngai Tahu, Nga Puhi)
The Project
Water flows from the source, whakapapa/genealogy springs forth. A kui reminisces with her New Zealand born grandchild about the place she came from and has yet to go back to…at the water's edge on an island in Tonga. Celebrating the relationship between tūpuna and mokopuna, this work connects generations across oceans of time and space, exploring the nuances of Pacific diaspora and Māori identity within the artist's own whānau/family.
"Ka Puna highlights the importance of family but also the role of music and singing together as a means of celebrating and maintaining culture." (Caroline Vercoe, 2017)
Having coined the term 'Toi Rerehiko' to centre, claim, and name digital space within a Māori paradigm, Rakena's work describes and locates Māori digital/electronic-based art practice in terms of a continuum, motion and collaboration. She has an international exhibiting practice and her artwork has been featured in major survey and retrospective exhibitions of New Zealand art, and in international exhibitions.
The Artist
Rachael Rakena (Ngāi Tahu, Ngā Puhi, Ngāti Pākehā) critiques notions of fluid identity and cultural understandings of space and water through metaphors of digital space as water space, inhabited by iwi Māori. Her art installations have evolved to enculturate and politicize water itself, navigating issues of the ongoing Pacific diaspora, flooding and rising sea levels, and decolonization/(re)vitalization.