Mana Moana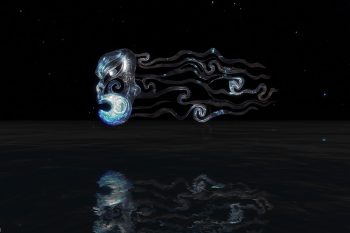 "Mana Moana Digital Ocean" brings together more than 20 leading Māori and Pacifica artists from across Aotearoa (New Zealand) for an online collection of multimedia and video art, all housed within an immersive waterscape rendered in 3D.
View "Mana Moana Digital Ocean"
The Project
Art and technology weave together in eight new collaborative works ranging from video art to VR/360 film and 3D digital sculpture. The result is an innovative exhibition that speaks to our relationships with water and the need for collective action to ensure its survival. The project takes off where "Mana Moana" 2019 left off; however, with Covid-19 restrictions the project pivots to the digital realm.
These digital art works offer a compelling narrative about manaakitanga (hospitality) and whanaungatanga (relationships) to inspire positive change for people and the planet alike. A number of works foreground themes of well-being, balance, and healing. Curators reached out to multimedia creatives to produce works that push the boundaries of the medium while also staying true to the kaupapa of the project.
In the shift to an online format, the creative team conceived an inky, digital 3D ocean environment populated by the new art projects; the web platform itself thus becomes an artwork in which the viewer is invited to voyage.
The Curators
Rachael Rakena (Ngāi Tahu, Ngā Puhi, Ngāti Pākehā) critiques notions of fluid identity and cultural understandings of space and water through metaphors of digital space as water space, inhabited by iwi Māori. Her art installations have evolved to enculturate and politicize water itself, navigating issues of the ongoing Pacific diaspora, flooding and rising sea levels, and decolonization/(re)vitalization.
Mike Bridgman (Tonga, Ngāti Pākeha) is a multidisciplinary digital artist. He works in many different industries, including film, television, web, video games, music videos, public installations, festivals, fashion shows, museums, experiential live shows, interactive performances, and projection mapping. As a first-generation digital director, he has been at the forefront of digital arts design evolution.
The Production
Established in 2010, Storybox is an award-winning arts and media production company that specializes in enabling innovative methods to connect with audiences. They believe in the power and integrity of art to make our future a better place to be.
Acknowledgements
"Mana Moana" was made possible with support from Creative New Zealand, Massey University, and the Wellington City Council.
Credits
Concept: Rachael Rakena, Mike Bridgman, Rob Appierdo
Curation: Rachael Rakena & Mike Bridgman
Production: Storybox
Site design/build: Vanishing Point
Soundscape: Warren Maxwell
Pao: Te Rina Warren
Te Reo translations: Kristin Smith, Kūwaha Ltd
The Artists
Te Rina Warren, Kereama Taepa, Kura Puke, Stuart Foster, Kurt Komene, Hinemoa Erueti Waikerepuru, Louise Põtiki Bryant, Karlo Mila, Michel Tuffery, Jess Feast, Rob Thorne, Cathy Livermore, Johnson Witehira, Warren Maxwell, Tina Ngata, Terri Ripeka Crawford, Regan Balzer, Horomona Horo and Laughton Kora.
List of Art Works in "Mana Moana Digital Ocean"
*Tauihu: Kaitiaki: Manukorihi Pā Trust housed in Puke Ariki Museum A.78.127. [accessed May 2020].