Tangiwai
Artist: Dr. Johnson Witehira (Tamahaki, Ngā Puhi, Ngāti Haua)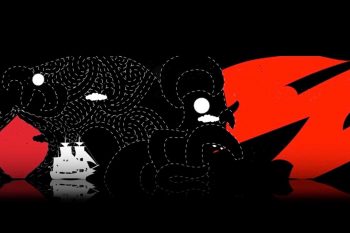 The "Tangiwai" artwork merges two world views in the reconstruction of the arrival of Europeans in the South Pacific.
The Project
On the one hand, the work is simply about the experience of the exotic. The alien-like arrival of a colonial ship – coming through a gateway portal that appears to bend space and time – talks about the wonder and awe experienced by Māori and European alike as they first encountered one another. On the other hand, the work talks about how two people(s) might have overlapping yet vastly different experiences of the same reality. As the ship moves through the waters across the horizon, the viewer is presented with an ocean that is filled with ancestral Māori forms, defiant markers of Indigenous seafaring that predate European myths of discovery. Here, Māori oral histories are made visible to a non-Māori audience through visual representations. Yet, viewing does not mean understanding or connection. What is implicitly understood by Māori, unbroken yet malleable ancestral knowledge, is ultimately incomprehensible to the other, the European mind.
Finally, at a higher level, the work also talks about the need to continue to use meaningful and complex cultural codes, particularly Indigenous ones, in our ever-changing digital worlds. In this specific artwork, Māori ideas about the power of women as the portals through which we are born and die are made literal in the gateway through which the European ship arrives. The gateway itself is a warning about the calamity that is to follow.
The Artist
Dr. Johnson Witehira (Tamahaki, Ngā Puhi, Ngāti Haua) explores how a Māori world view and narrative can be used to shape all aspects of art and design in Aotearoa. He has worked on projects that range from the first Māori-alphabet block set for children to collaborations in theatre, book cover design, fashion, museums, and Māori typeface. Witehira's work has been shown both locally and internationally.