Te Mauri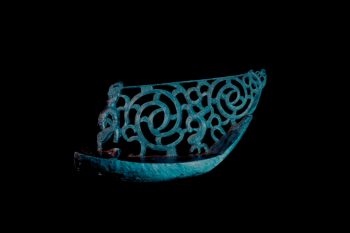 Artists: Kura Puke, Stuart Foster, Kurt Komene and Hinemoa Erueti Waikerepuru
The Project
Te Maara Tuu Aatea Mutunga Kore: the celestial gardens of infinite space – Te Huirangi Eruera Waikerepuru, 2015
Utilizing digital technologies, notions of the 'virtual' mauri, and ceremony to connect taonga and people through time and across distance, "Te Mauri" commemorates a tauihu* (Te Atiawa) and the tira who travelled with the taonga for the exhibition "Te Māori 1984–1985" (USA) and "Te Hokinga Mai 1986–1987" (NZ). "Te Mauri" was presented as a holographic sculptural work in "Trigger Points," New York, in 2016.
For "Mana Moana," "Te Mauri" is a remastered animation for presentation as a 360 degree immersive visual and aural experience. In this online format, the audience can direct their view within the pixels of light points that make up the digital taonga image. The karakia and maioha call the image into presence; the taonga, the ancestors, and the event that brought these together. It is through ceremony and taonga pathways that we remember who we are: we are mouri, we are light consciousness sustained and light-emitting through our experience here in Te Ao Marama.
*Tauihu: Kaitiaki: Manukorihi Pā Trust housed in Puke Ariki Museum A.78.127. [accessed May 2020].
The Artists
Stuart Foster is a spatial designer and Senior Lecturer at College of Creative Arts (CoCA), Massey University. Stuart works with a range of digital technologies that perform as mediators between people, space and place.
Kura Puke, Te Atiawa, Ngāti Tawhirikura, is an artist and Associate Dean of Māori at College of Creative Arts. Kura works with digital technologies, mātauranga, and tikanga as aesthetic learning experiences.
Kurt Komene, Taranaki, Ngāti Tawhirikura, is a weaver, composer, and performing arts and cultural practitioner in exhibitions and mana whenua events. Kurt is also based within Te Kaihautu Toi Māori at College of Creative Arts.
Hinemoa Erueti Waikerepuru, Ngā Rauru, Ngāti Ruanui, Taranaki Tukau, Te Atiawa, Ngapuhi, Tuhourangi, Ngāti Whakaue, is an artist and performer, and is currently immersed in reo-based learning.