Te rerenga pōuri o nga parawhenua ki Te Moana-nui-a-Kiwa – 2019
Artists: Natalie Robertson (Ngāti Porou, Clann Dhònnchaidh), Graeme Atkins and Alex Monteith
Through a suite of new video works, artists explore the devastating impacts of land management policies on the Waiapu River region in Aotearoa over the past century.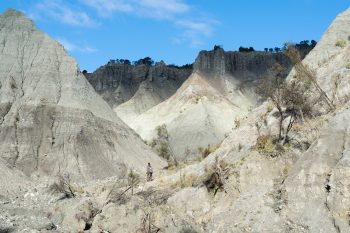 The Project
For many years, we have witnessed sediment pouring out of the Waiapu River mouth change the ecology of the coastal environment. Mass erosion over the past century has had a devastating impact on the coast and ocean. The Waiapu River has the highest sediment yield of any river in Aotearoa and one of the highest in the world.
In this work, the artists visit Waiorongomai, one of the largest eroded gully complexes in the country. They follow the water's flow from mist, rains and streams down the river to the moana – the ocean.
The Artists
Natalie Robertson (Ngāti Porou, Clann Dhònnchaidh) is a photographic and moving image artist. Drawing on historic archives and tribal oral customs, Robertson's artistic practice engages with Indigenous relationships to land and place, exploring Māori knowledge practices, environmental issues, and cultural landscapes. Much of Robertson's practice is based in Te Tai Rawhiti, her East Coast Ngati Porou homelands.
Graeme Atkins is a tohunga taiao, an expert in mātauranga taiao (ancestral knowledge relating to the natural world). He is a Biodiversity Ranger for the Department of Conservation and has an unrivalled knowledge of Tairāwhiti native plants, animals, fish, and reptiles.
Alex Monteith was born in Belfast, Northern Ireland, and currently lives and works in Auckland, Aotearoa. She is a new media artist and academic. Her work explores the political dimensions of culture engaged in turmoil over land ownership, history, and occupation. Her works traverse political movements, contemporary sports, culture, and social activities.
Film Credits
Aerial cinematographer: Sam Britten
Original sound: Rachel Shearer