Nuit Podcasts
Belonging to Place: Season 2
Delve into projects and themes explored at this year's Nuit Blanche with artists scholars and cultural thought-leaders. Season 2 of Belonging to Place is a 10-episode podcast series hosted by Nuit Blanche's Artistic Director Dr. Julie Nagam. New episodes and transcripts will be available in late August.
Please contact Anastasia Saradoc, Marketing at 416-392-8123 during business hours or check back on this page for updates.
Episode 1 – Holding Ground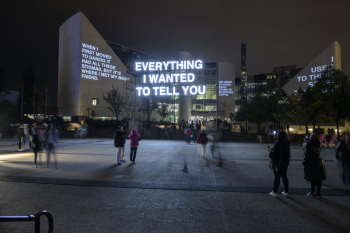 Reflect on the contributions that Nuit Blanche, comprising some 1,600 artworks, has made to the city of Toronto over the last 15 years. Hear from the contributors of a new book that illuminates the position of public art exhibitions within urban spaces: Dr. Janine Marchessault, Alyssa Fearson, Hiba Abdallah and Umbereen Inayet.
Belonging to Place: Season 1
A 10-episode podcast series featuring interviews and discussions about a geographic thematic. Artistic Director Dr. Julie Nagam speaks with artists, cultural producers and scholars to unearth different artistic practices and their relation to the rich history of rivers, oceans, mountains and forests as content and metaphor.
Belonging to Place: Season 2 Podcast Credits
Dr. Julie Nagam – Executive Producer and Host
Chris Penrose – Producer
Martín Anxxon – Editor and Sound Design
Joel Mierau – Sound Engineer
Nabil Shash – Designer
Noor Bhangu – Research Assistant
Alicia Roberts – Associate Producer
Josiah Joseph – Transcript Editor
Opening and Closing Music Credits – TOBI and Looney