Etobicoke Civic Centre Art Gallery
The Etobicoke Civic Centre Art Gallery presents a wide range of visual art exhibitions, with an emphasis on juried and curated shows by local and national art organizations. Situated within the Central Block of the Etobicoke Civic Centre, this large public gallery provides a free and accessible opportunity for visitors to enjoy and engage with the artwork on display. Exhibitions change monthly.
About Us
The Etobicoke Civic Centre Art Gallery opened in May 1976 and was designed as both a showcase for local artists and a cultural uplift to the newly renovated civic centre. While Etobicoke arts groups have always been a mainstay, the gallery has also brought the world of art to our community, with national and international shows featuring works from artists across the globe, including Japan, Korea, Hungary, and Latin America. More than 400 shows have been displayed over the past four decades.
The gallery is located within the main floor foyers and halls of the Etobicoke Civic Centre's Central Block. It is wheelchair accessible and there is no admission fee. Please see the Hours and Directions section for more information on planning your trip to the gallery.
The Etobicoke Civic Centre Art Gallery is managed by the City of Toronto's Arts & Culture Services. The gallery is supported by the volunteer ECCAG committee, who work with staff to evaluate gallery applications and install the exhibitions. We would like to thank our amazing volunteers for their dedication and expertise. If you would like more information on volunteering, please contact us at eccartgallery@toronto.ca.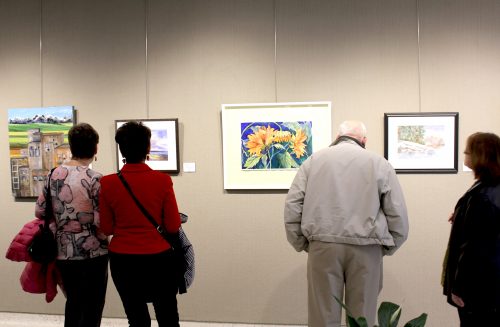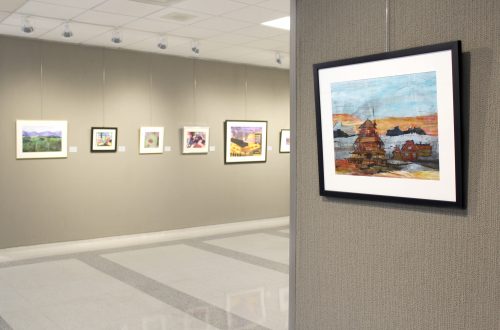 Hours and Directions
Admission
Free
Hours of Operation
Weekdays: 9 a.m. – 8 p.m.
Weekends: 9 a.m. – 5 p.m.
Driving Directions
From Highway 401 or the QEW, take Highway 427 to the Burnhamthorpe Road West exit. Turn south onto The West Mall. The gallery is located in the Etobicoke Civic Centre, on the southeast corner of Burnhamthorpe Road and The West Mall.
By Transit
From Kipling subway station, take the West Mall #112 bus to Civic Centre Court. From Islington subway station, take the Burnhamthorpe #50 bus to The West Mall. The gallery is located in the Etobicoke Civic Centre, on the southeast corner of Burnhamthorpe Road and The West Mall.
Location
399 The West Mall
2019 Exhibitions
Aquavision 2018: presented by Toronto Watercolour Society 
Running until January 17
Six Directions: presented by Murmurations Art Collective
January 22 – February 21
Reception: Sunday, January 27, 2 – 4 p.m.
Open Juried Exhibition: presented by Franklin Carmichael Art Group
February 26 – March 21
Reception: Sunday, March 3, 2 – 4 p.m.
Annual Members' Juried Show: presented by Humber Valley Art Club
March 26 – April 25
Reception: Sunday, March 31, 2 – 4 p.m.
55th Annual Juried Exhibition: presented by Etobicoke Art Group
April 30 – May 30
Reception: Sunday, May 5, 2 – 4 p.m.
Art by Etobicoke Seniors
June 5 – 23
Reception: Tuesday, June 11, 7 – 8:30 p.m.
Kaleidoscope: presented by Uptown Gallery Waterloo
June 27 – August 7
Reception: Sunday, July 7, 2 – 4 p.m.
Social Medium. Why Art?: presented by Art Tour Collective
August 22 – September 26
Reception: Thursday, August 22, 6 – 8 p.m.
Crossection 2019 – A Moment in Time: presented by Central Ontario Art Association
October 1 – 24
Reception: Sunday, October 6, 2 – 4 p.m.
67th Annual Open Juried Exhibition: presented by The Colour and Form Society
October 29 – November 27
Reception: Sunday, November 3, 2 – 4 p.m.
Art Vibration: presented by The Sound of Artists
December 1 – January 9, 2020
Reception: Sunday, December 8, 2 – 4 p.m.
Exhibit at the Gallery
The Etobicoke Civic Centre Art Gallery only accepts applications from arts organizations and groups of six or more artists. Preference is given to juried and curated exhibitions.
The gallery encourages applications from diverse arts organizations and artists who have not shown previously at the gallery.
If you are looking for an exhibition opportunity for either a solo show or a smaller group of up to five artists, please consider our sister gallery at the Assembly Hall.
Situated within the Etobicoke Civic Centre, the gallery displays works in the halls and foyers, along with several small display cases, in the Central Block on the main floor.
Hanging space is approximately 230 feet, allowing for 45 – 75 works, depending on the size and media. The gallery is public space, visited by both dedicated gallery viewers and all visitors to the Civic Centre.
There are usually 10 shows annually with most of the exhibitions running for one month each. July/August and December/January shows are often combined. The gallery is booked at least one year in advance.
Application Process
Any group who is interested in exhibiting at the gallery is required to:
Complete an application form and submit it by April 1 (annual deadline)
Provide electronic images of art work to support the application
All applications are reviewed by the ECCAG committee, in consultation with gallery staff. Decisions are made by the end of April. All applicants will be notified and all decisions are final.
For more information or to request an ECCAG application form, please contact the gallery by phone at 416-394-8628 or email at eccartgallery@toronto.ca
Terms of Entry
Terms of Entry for All Participants
Artwork will not be accepted if:
it has been previously exhibited at the Etobicoke Civic Centre Art Gallery.
the work was demonstrated by instructors.
it is a copy of a work by another artist (whether paintings, photographs, illustrations).
it is a digital reproduction of the original artist's work
photography only: if the image is a reproduction of someone else's work (e.g. graffiti, public art) that has not been creatively interpreted
the work doesn't conform to our requirements (see below).
Labels:
All artwork must have a label on the reverse with the title, artist name, media, and price.
If any contact information (phone, address, email, etc.) is included on the labels, the artist must be acting in a professional or business capacity, and it is therefore not considered personal information. Please do not include contact information on temporary front labels.
Insurance:
Insurance is provided to protect the art work from vandalism and theft. A value must be given for all works submitted, even if it is not for sale. In the event of a loss, verification of the value of the artwork will be required. All reasonable care will be exercised in handling entries while at the Etobicoke Civic Centre Art Gallery. The gallery is not responsible for accidental breakage of glass or other fragile article damage including frames.
Delivery and Pickup:
Works must be delivered and picked up on the required date and time. There is no secure storage or insurance coverage after the pickup date and time.
All art work – including sold works – must hang in the Gallery until the show is completed.
The artist may appoint somebody else to deliver or pick up their work, but this must be pre-arranged in writing with the group's convenor.
Terms for 2D Artwork:
Hanging System:
All 2D works must be framed and suitably wired for hanging on our rod and clamp system. Wall nails are not used.
Works on Canvas:
Canvas wrapped stretcher frames are acceptable. If the edges of the canvas are showing, they must be finished.
Sizing:
Two-dimensional works that are 16″ x 20″ or smaller may, at gallery staff discretion, either be double hung or placed in one of the display cases.
Please check with gallery staff if your work exceeds 6 feet in any dimension.
Glass vs. Plexiglas:
The gallery is in a busy, public hallway. All works that are not oil or acrylic must be protected either by glass, Plexiglas or a coating on the media itself. Encaustic works must be hard or coated. Any work that is deemed fragile by gallery staff or volunteers can only be displayed if a waiver is signed by the artist.
Plexiglas must be used in place of glass if any side dimension exceeds 40 inches. Artists must identify on the front of the art work if Plexiglas has been used.
Wiring:
The gallery has the right to reject faulty or poorly wired frames. A sufficient gauge of wire and screw eyes for the weight of the art work must be properly mounted. Single strand wire or wire substitutes will not stand up to the necessary handling. Artists are responsible for any damage caused by faulty hanging equipment.
We can hang textile works, as long as there is a sleeve at the top of the artwork that we can place a rod through.
If the work is deemed fragile, the artist will need to sign a waiver upon check in.
The ends of the wire must be covered with masking tape or equivalent, to ensure there is no potential for injury during the frame check, carrying and hanging process.
Each artwork must have rings or screw eyes on both sides at the back of the frame/canvas, with the wire (in its hung position) is at least 3″ below the top of the frame (so that the clamp will not show). If the piece is larger, please aim to have the wire sit 1/3 from the top.
Terms for 3D Artwork:
Sizing:
3D artwork must be able to be placed in one of our display cases. The gallery is in a busy, public hallway, and we cannot accommodate works that exceed the size of our cases. No works may be placed on the floor of the gallery.
We have six display cases. The case sizes are as follows, however works must fit within the cases:
60″ L x 36″ W x 32″ H
60″ L x 36″ W x 32″ H
32″ L x 16″ W x 28″ H
30″ L x 30″ W x 35″ H
28″ L x 14″ W x 22″ H
24″ L x 12″ W x 18″ H
Gallery Rights:
Non-conforming works:
The Etobicoke Civic Centre Art Gallery reserves the right to reject any works that do not conform to the above Terms of Entry.
Subject Matter:
The Gallery reserves the right of final decision on suitability of subject matter.
The Etobicoke Civic Centre Art Gallery reserves the right to reject any works that do not conform to the City of Toronto Workplace Human Rights Policy.
Promotion:
The gallery reserves the right to use images of works on display as part of promotional materials for both the gallery and the exhibition, either online or in print. If you wish to have your work excluded, you must notify gallery staff or volunteers when dropping off the artwork.
Download the ECCAG Terms of Entry 
Collection Notice: Personal information provided is collected under the authority of the City of Toronto Act, 2006. The information is used exclusively by Etobicoke Civic Centre Art Gallery staff to process email subscriptions. Questions about this collection can be directed to Senior Arts Consultant, Etobicoke Civic Centre Art Gallery, 399 The West Mall, Etobicoke M9C 2Y2, phone: 416-394-8390 or email: eccartgallery@toronto.ca
Looking to unsubscribe? In each e-newsletter you receive, there will be a link to unsubscribe