Ongoing Low Water Pressure Issues at a Non-residential Property
Use this service to report ongoing water pressure issues at a non-residential property. You can call 311 at any time for help if you experience difficulties completing this request online.
What You Need
Provide a valid Toronto location
Provide a contact phone number
Provide an email address
Be available if an investigation at your property is required.
An adult (over 18) who owns and/or lives at the property must be at the property for the investigation.
To submit a service request
you will need the latest version of Google Chrome
. Firefox and Internet Explorer are not supported. If you choose not to update or install Google Chrome you can submit your request by calling 311.
Service Request Eligibility
To be eligible for this service request, ensure the following criteria.
What if I'm a tenant?
Contact the property manager, superintendent or owner. They may contact 311 to report the issue.
What if the problem is only in one tap?
If the problem is only in one tap, then it is probably not a problem with the City's water service to the property. You may need to inspect the tap for blockages or contact a plumber.
What do I do if the pipes are frozen due to cold weather?
Learn more about frozen pipes including tips, precautions and steps to take if your pipes are frozen.
How do I check aerators for blockages?
Aerators restrict the flow of water from your tap without reducing water pressure. They can reduce the amount of water you use by more than 50 percent.
To check for blockages, unscrew and remove the aerator from your tap and then test the water flow.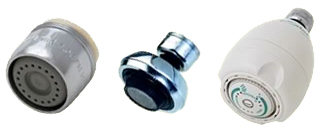 Where is the stop/waste valve located?
The stop/waste valve is typically located in the basement, along the front wall and near the floor. Other common places include basement washroom and laundry rooms. If you have a water meter, the stop/waste valve should be on the attached pipe.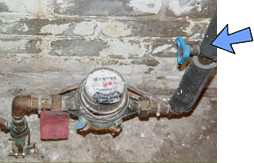 Ensure valve is open.
What types of activities can cut off the water service?
Water service may be interrupted by:
watermain break or burst pipes
construction activities such as watermain re-lining
a fire hydrant being used in the area
If you suspect one of these causes, you can call 311 to inquire.