Project Overview: Y-B-Y
In late July 2016, the City of Toronto prepared for the construction of a new off-ramp from the eastbound Gardiner Expressway to Lower Simcoe Street. This project included the removal of the York-Bay-Yonge off-ramp, the construction of a new ramp ending at Lower Simcoe Street, and improvements to Harbour Street.
The new York-Bay-Yonge Ramp opened on January 29, 2018.The contractor will return in Spring 2018 to complete the remaining work on Harbour Street.
The new ramp to Lower Simcoe Street and improvements to Harbour Street will:
Continue to accommodate high volumes of traffic flow between the Gardiner Expressway, the downtown core and the waterfront
Create an enhanced public realm for the increasing number of pedestrians and cyclists living and working in the area
Improve public safety by including well-signalized, well-lit intersections and better signage for all users
Create new park space (within York Street ramp site) to help revitalize waterfront lands
Project Background
An Environmental Assessment study was completed in 2013 recommending the reconfiguration of the eastbound off-ramp from the F.G. Gardiner Expressway to York, Bay and Yonge Streets.The City is now moving forward with the reconfiguration.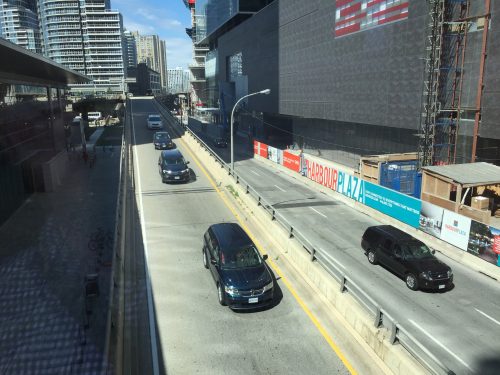 The study recommended the removal of the existing long elevated ramp that leads from the F.G. Gardiner Expressway to Bay Street and removing the ramp at York Street. They will be replaced with a shorter, wider ramp to Harbour Street at Lower Simcoe Street. A new park will be created at York Street following the looped ramp removal that will further enhance the waterfront area.
Harbour Street will be widened from three to four lanes from Lower Simcoe Street to Bay Street. Streetscape improvements will be made along Harbour Street and will include the addition of sidewalks decorative pavers and planters.
The study was completed in a manner that best addressed the Central Waterfront Secondary Plan, the first principle of which is to remove barriers and reconnect the City with Lake Ontario. Other policies of the Plan explain that Waterfront streets are to be remade as "places" with high quality amenities for pedestrians and cyclists, and that parks are to be designated to enrich waterfront communities.
Public Consultation
Public Drop-in Event – February 28th, 2017
On Tuesday, February 28, 2017 the City hosted a public drop-in event where the public could speak directly with project staff about the upcoming construction.