Pedestrian Wayfinding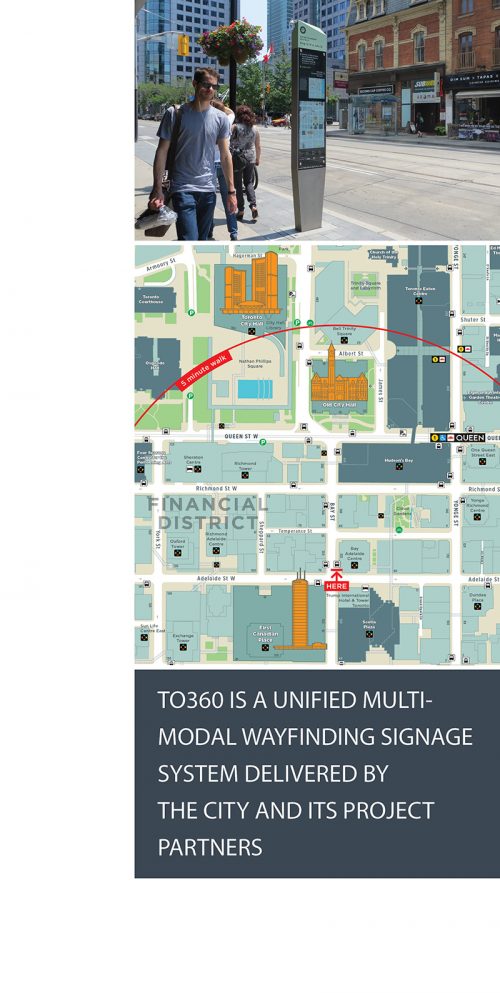 About Wayfinding
A wayfinding system enables people to orient themselves and navigate from place to place with confidence. Wayfinding is more than signs – it includes the consistent use and presentation of information such as landmarks, neighbourhoods, destinations and connections that help residents and visitors navigate a city.
The Toronto 360 Wayfinding Strategy
The City of Toronto has started a city-wide roll out of the Toronto 360 ("TO360") pedestrian wayfinding system, which is a central component of the City's ambition to make Toronto a more walkable, welcoming and understandable place for visitors and residents alike. TO360 provides consistent wayfinding information through a unified signage and mapping system delivered by the City and project partners.
Benefits
An integrated wayfinding system is expected to:
enhance the image of Toronto as a destination
increase confidence in walking and reduce walk times
promote multiple modes of transportation
increase visitors at key attractions and boost the local economy
improve the public realm
improved health due to increased walking
Many cities such as London, New York, Bogota and Vancouver have developed wayfinding strategies in response to significant transportation challenges and/or major events such as the Olympics.
Reports & Guidelines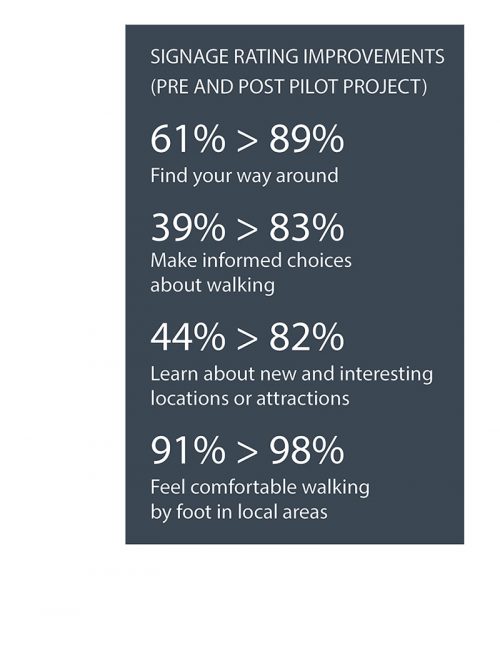 Business Case
A business case was completed that outlined the benefits of the wayfinding system and paved the way for rollout of TO360 across the city. It determined that for every dollar invested, almost four dollars will be returned in transportation benefits (including capital costs and maintenance) over the 25-year lifecycle of the project. TO360 also delivers additional benefits such as increased tourism spending, reduced emissions through reduced auto use, a more attractive public realm, and improved health due to increased walking.
Pilot Project Evaluation
The City conducted independent pre- and post-implementation surveys to evaluate the impact of the pilot project.
Respondents were asked to rate wayfinding signage in the pilot project area on a number of factors. All signage ratings significantly improved following the implementation of the pilot.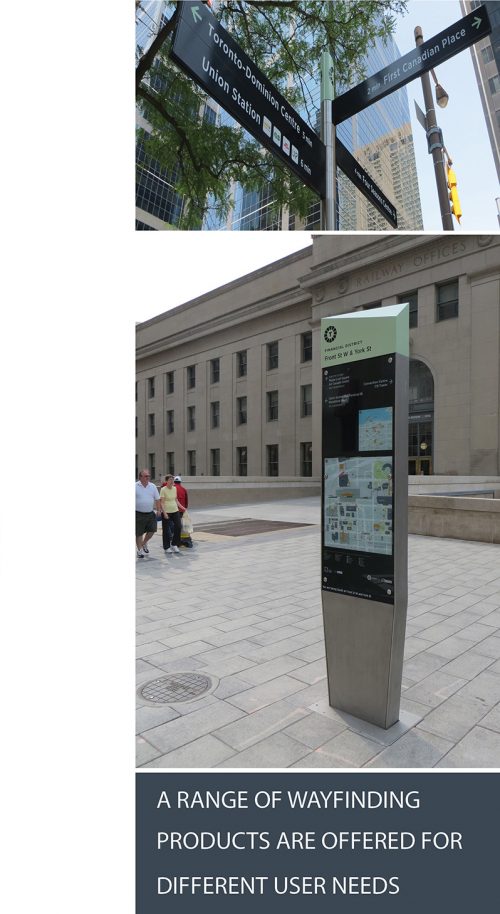 Different Information Needs
Wayfinding users have differing information needs that are best met through a variety of wayfinding products such as printed maps, signs, web-based maps and digital applications.
TO360 Sign Family
The TO360 on-street sign family includes wide signs, narrow signs, finger posts, wall mounted signs, bike share station maps, and transit shelter walking maps. Existing 'Astral' wayfinding signs will be updated with new TO360-style maps.
Digital Strategy
A digital strategy will be explored as part of this project phase. This review will include digital tools such as QR codes, RFI tags, wi-fi, and other technologies that support location-based services.
As a core principle, the City is investing in the development of an accurate and consistent wayfinding information database that will be available to everyone and can be used by our wayfinding partners to develop digital products.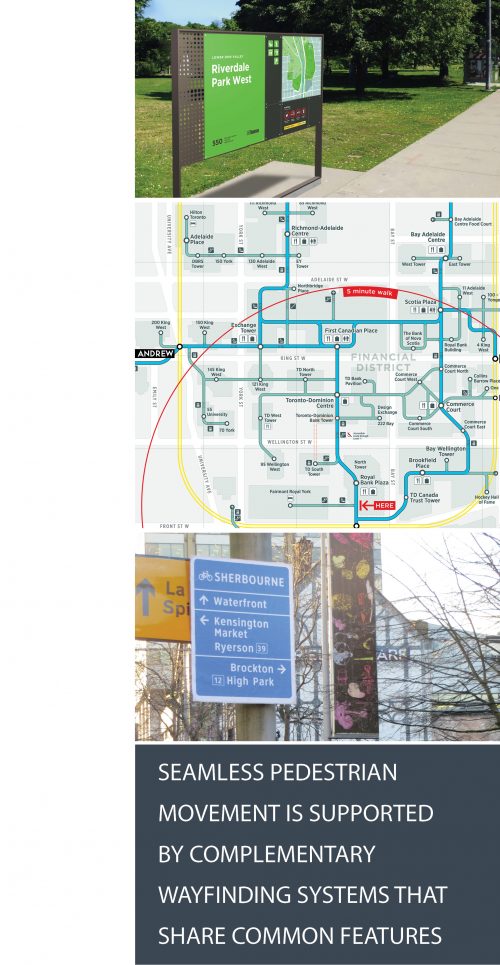 Seamless Movement
An effective wayfinding system connects places and enables people to move seamlessly between transportation modes, wayfinding systems and geographic areas.
Seamless movement is supported by complementary wayfinding systems that share features such as consistent graphic standards, clear "hand-offs'" between each system, and accurate data that is shared between wayfinding system providers.
Common Information
An effective wayfinding system includes common user information that is shared with other wayfinding systems. For example, selected information for other modes of transportation such as bikeshare station locations and transit stops are included on TO360 pedestrian maps.
Complementary Wayfinding Systems
The TO360 Wayfinding Strategy includes cycle and vehicular wayfinding systems that are managed by the Transportation Services Division.
TO360 is also coordinated with ongoing wayfinding projects by partner divisions and agencies such as the Parks & Trails Wayfinding Strategy, PATH Wayfinding Strategy, and the Metrolinx Regional Wayfinding project.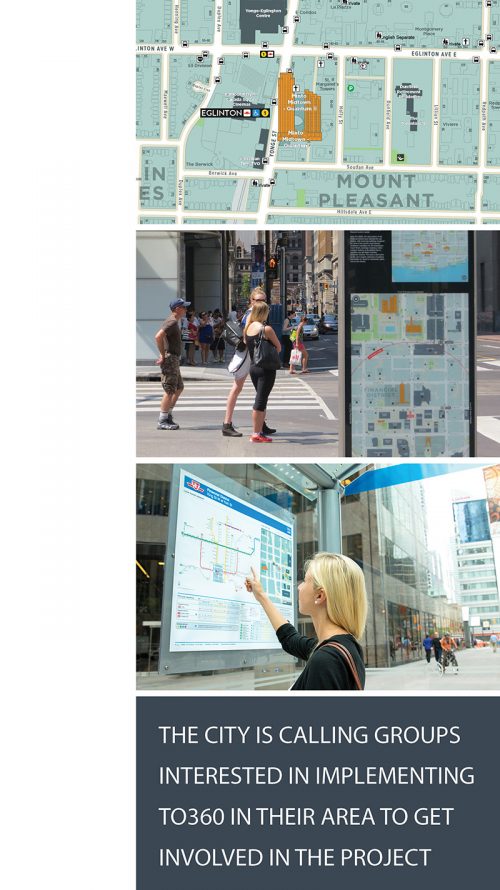 Find Out More
The City is calling on Business Improvement Areas, developers and other individuals interested in implementing TO360 in their areas to get involved in the TO360 Project.
The Toronto 360 Wayfinding project is managed by the Public Realm Section of the Transportation Services Divison. Contact the TO360 Project Manager to learn more.
TO360 is also coordinated with ongoing wayfinding projects by partner divisions and agencies such as the Parks & Trails Wayfinding Strategy.