A Work in Progress: Civic Architecture
Civic architecture refers to buildings owned and operated by the City. Either through commission or designed by City staff, the City of Toronto has constructed a variety of buildings for its own use or to cater to the needs of a developing population.
These structures tend to reflect the architectural preferences of their era, from the Romanesque Old City Hall, through the Second Empire-style fire halls, to the Arts and Crafts and Art Deco-inspired Works and Parks structures and on to the Postmodern-influenced Toronto Archives building.
Old City Hall
In 1886, architect E.J. Lennox won a design competition for a combined courthouse and municipal building for Toronto. Lennox was inspired by the American architect Henry Hobson Richardson, who was famous for his Romanesque-Revival style, and in particular his Allegheny County Courthouse in Pittsburgh, Pennsylvania.
Lennox completed his architectural drawings in July 1887 and builders laid the cornerstone for City Hall in November 1891. In 1899, the building officially opened, but Lennox delayed submitting his itemized bill until 1907. The City disputed it and refused payment. Lennox sued, and the case, which went all the way to the Supreme Court, took four years to settle in the City's favour.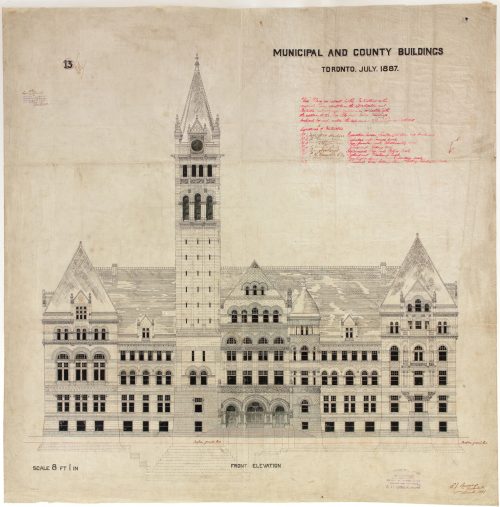 Old City Hall was added to the Toronto Heritage Properties Inventory in 1973, amid debate over its potential demolition as part of the Eaton Centre development. It was designated a heritage property under bylaw 332-86 in 1986. Of note is the fact that for many years the attic of Old City Hall served as the City's first 'records centre,' housing many of the documents and plans that are now stored in the current Archives' facility.
Works and Parks
During the first quarter of the 20th century, Toronto doubled in size and population, leading to an expansion of municipal services. This expansion was overseen by R.C. Harris, who was appointed City Engineer & Commissioner of Public Works in 1912, a position he filled for 33 years.
Harris worked in conjunction with the City Architect's Office (later the Dept. of Buildings), during the tenures of W.W. Pearse, G.F.W. Price, J.J. Woolnough and Kenneth S. Gillies, and a number of projects were completed successfully.
Many of the Works buildings and structures, such as the Symes Road Incinerator completed in 1934, display very attractive Art Deco features that are perhaps unexpected in buildings which serve such humble functions as garbage disposal.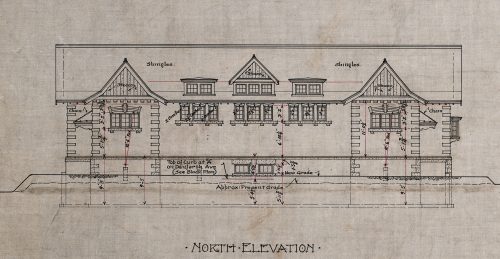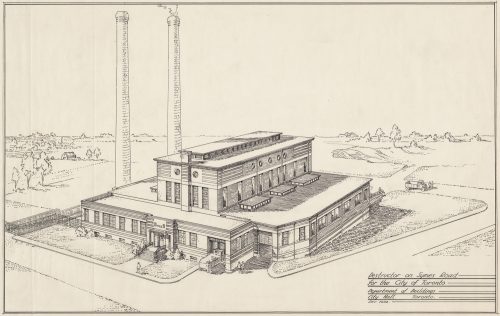 At the same time as the City was expanding Toronto's public works facilities, there was a similar increase in its parks and recreational facilities. Charles E. Chambers was appointed Parks Commissioner in 1912, a position he held for 36 years, and he oversaw a transformation of the City's parks system.
During Chambers' tenure, the department sought "to provide, maintain and operate a system of parks, playgrounds and recreation centres designed to meet the needs of all citizens and to acquire and develop lands and facilities to this end."
These plans show some of the numerous structures and amenities designed by the City Architect's Office (later the Dept. of Buildings) for the Parks Dept. during this period of expansion, exhibiting a broad range of architectural styles, from Arts and Crafts to Art Deco.
Fire Halls
Toronto's first permanent Fire Department was established in 1874, replacing a system of volunteer firefighters. A vigorous period of fire hall construction began.
These plans show stations built in the Second Empire style popular in the late 19th century, with additions and alterations prompted by knowledge gained after fighting Toronto's Great Fire of 1904.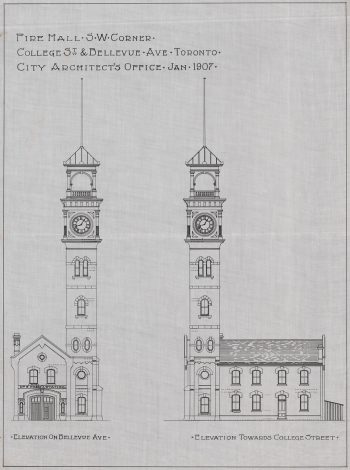 Station No 8, built in 1878 at the south-west corner of College St. and Bellevue Ave., was severely damaged by fire in May 1972 while undergoing renovations. It was fully re-built in 1973-1974, and added to the Toronto Heritage Properties Inventory in 1976.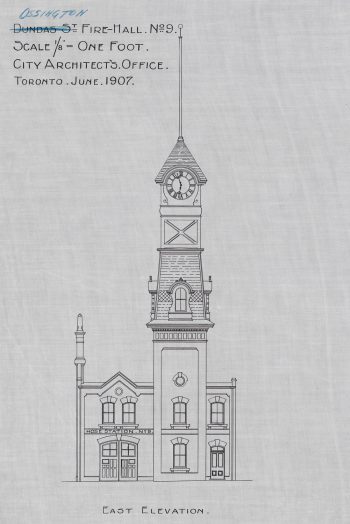 Station No. 9 at 16 Ossington Ave. was built in 1878 and added to the Inventory in 2003.
Toronto Archives building
This structure was built as a combined archival storage/research facility and inactive records storage centre for the Municipality of Metropolitan Toronto. Staff moved into the building in 1991 and the building officially opened January 22, 1992. A purpose-built facility, it was designed by Zeidler Roberts Partnership, Architects, also responsible for designing the Eaton Centre and Ontario Place.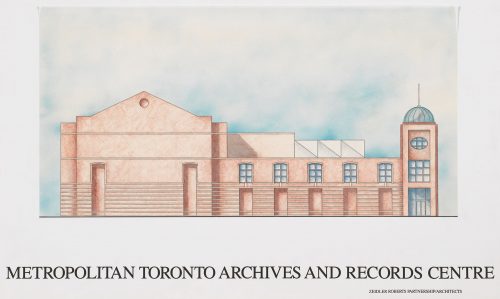 The Archives building is safe, secure and efficient, with an inviting research hall and other public spaces for exhibitions and school programs. It is climate-controlled with a constant temperature of 21° C. and a constant relative humidity of 40-46 %. The three-storey Record Centre holds 123,000 standard storage (cubic foot) boxes, equal to 2 1/2 boxes for every seat in the Rogers Centre.
With municipal amalgamation in 1998, the building became the archival and records storage facility for the new City of Toronto. Over one million historical photographs, which date back to the 1850s, are among the many items of historical interest available to researchers.