Western North York Community Centre
The City of Toronto is planning to design and construct a new community centre at 60 Starview Lane.
Project Details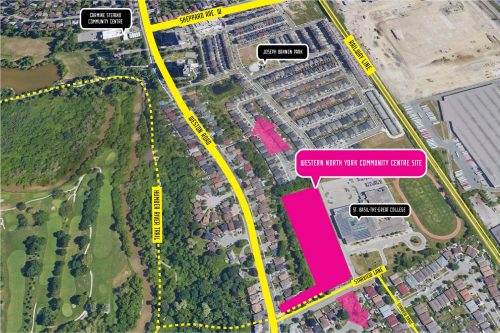 The site at 60 Starview Lane was purchased in 2015 and is east of Weston Road and Starview Lane. It is next to the Toronto Catholic District School Board's St. Basil-the-Great College at 20 Starview Lane.
The scope of work for this project includes the planning, design and construction of a new 77,000 square foot state-of-the-art community and recreation centre. The new centre will replace the existing Carmine Stefano Community Centre, currently being leased by the City. The new community centre will provide enhanced programming with no interruption to service.
Possible components may include:
an aquatic centre;
a gymnasium;
a walking track
fitness centre with studios;
flexible multi-purpose rooms;
a licensed child care; and
outdoor spaces.
It will be a place for the community to gather and to socialize. It will be a place that cultivates creativity, health and well-being, inclusivity, and accessibility for all ages and will improve the quality of life for the community.
Project Timelines
The project is currently in the first stage of the Community Consultation Phase.
Timelines
Schematic Design: Fall 2019
Tender and Contract Award: Spring 2021
Construction: Summer 2021
Completion: Spring 2024
Timelines are estimated and are subject to change.
Get Involved
Visit the project website for updates on past events and for other ways to get involved.
Past Consultations
Pop-Up at the Emery Village Movie in the Park
Pop-Up at the Humbermede Community Fun Fair
Date: July 13, 2019
Time: 1 p.m. to 4 p.m.
Location: Woodview Park Library parking lot at 16 Bradstock Rd.
Pop-up Event
June 12, 2019
11 a.m. to 2 p.m.
Community Open House #1
City staff and consultants were in attendance to provide information, answer questions and receive community input on the project.
Subscribe for E-updates
Sign-up for E-Updates to receive periodic updates and notices about upcoming meetings and events.
Type (do not copy and paste) your email into the box below, and check the box.