Character Analysis: Baby Point HCD Study
A character analysis of the study area was undertaken in order to understand the defining features of Baby Point and Old Millside, and determine whether those features relate to and still reflect periods of development. This analysis included the mapping of information compiled through the built form survey, including dates of construction, building height, and architectural style, which enabled the team to identify patterns and trends within the study area and begin to identify character-defining features.
The purpose of the character analysis is to determine if portions of the study area contain a consistent heritage character, and if so to identify what features are required to support this character in the long-term.
Dates of Construction
An analysis of dates of construction of houses in the study area was undertaken in order to determine not only the age of the existing buildings, but to identify major periods of development. Research determined that construction in the Baby Point neighbourhood peaked between 1925 – 1929, and that approximately 80 per cent of the neighbourhoods's current houses were built by 1934.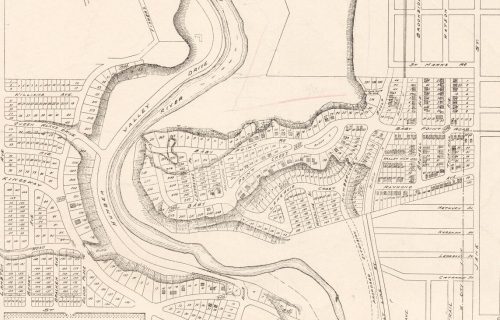 This period of development aligns with the time during which designs for new houses had to be approved by the Robert Home Smith Company (1911-1941) and had to abide by certain design restrictions. This supported high quality house designs that were compatible with the neighbourhood and it's park-like setting in terms of materiality, architectural style, placement and landscaping.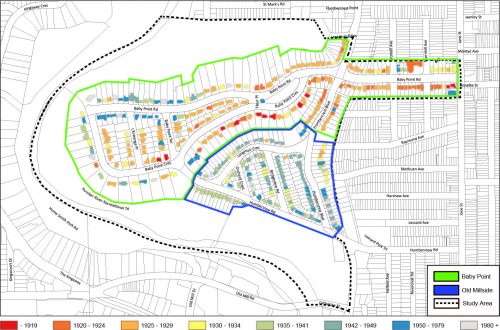 In contrast, construction in Old Millside peaked in the late 1940s, after the design restrictions that were put in place by the Robert Home Smith Company expired. This later peak of development reflected in the more regular placement of houses in Old Millside, which are generally smaller and resulted in greater land disturbance than houses in Baby Point.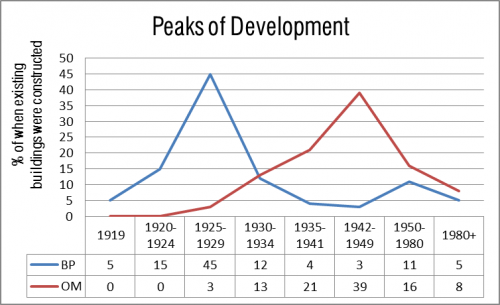 Architectural Styles
The study area includes a variety of early to mid-20th century architectural styles, interspersed with contemporary buildings which range from traditionalist to modern.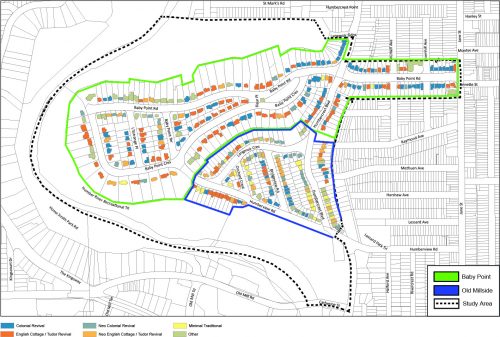 The Baby Point neighbourhood is fairly consist in style owing to its substantial development during the Home Smith Building Period (1911-1941) and associated design regulations. Most houses in Baby Point were designed in the English Cottage / Tudor Revival style (34 per cent) or the Colonial Revival style (35 per cent), two architectural styles that were popular in garden suburb neighbourhoods and reflected ideas of domesticity, craftsmanship and the picturesque.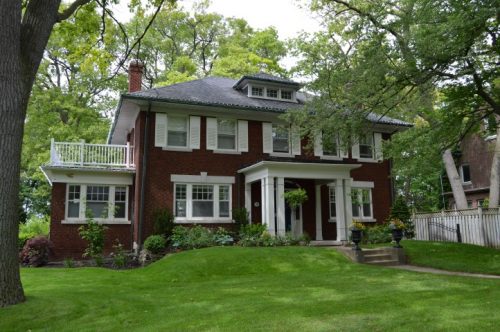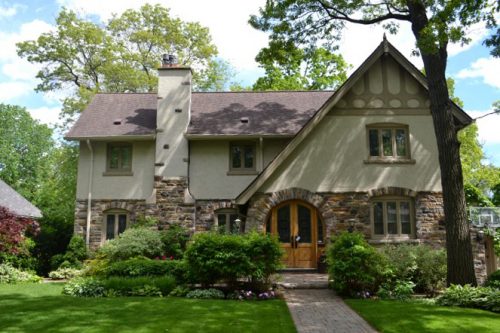 The Old Millside neighbourhood has a greater variety of architectural styles owing to its longer and later period of development (1940s – 1980). The neighbourhood contains examples of both the English Cottage/Tudor Revival and Colonial Revival styles, however it also has examples of the Minimal Traditional style (15 per cent) that was popular in the post-war period and reflected modern architectural sensibilities.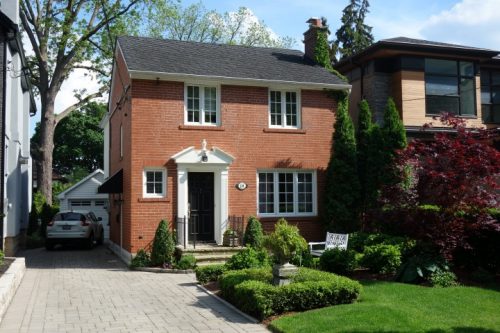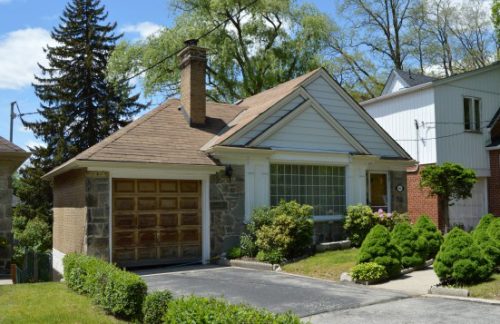 Public Realm and Private Landscapes
Public realm is used to refer to the space around and between buildings that is publicly accessible (streets, sidewalks, parks). Alongside private landscapes (i.e. front yards), the public realm often contributes to a neighbourhood's overall character. The public realm and private landscapes of Baby Point and to a lesser degree Old Millside owe much of their appearance to the study area's Garden Suburb roots, where curvilinear roads that followed the contours of the land provide new perspectives at each turn, and buildings have generous setbacks creating expansive green spaces.
Houses that back onto the escarpment tend to have the largest setbacks, whereas properties on inner blocks and with less square footage are set more closely to the road. An increased sense of space and feeling of being immersed within a park-like setting can be experienced traveling from east to west along Baby Point Road and Crescent as you approach the escarpment edge.
One key aspect of the Home Smith Building Period was to limit excavation, landscape modification and tree removal in Baby Point in order to preserve the natural environment, including the topography and trees. In contrast, Old Millside was developed after the restrictions were lifted, resulting in a more modified landscape with fewer mature trees. Setbacks in Old Millside are generally more homogeneous than in Baby Point.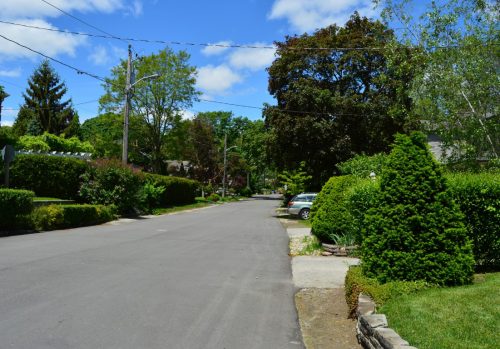 Integrity
Integrity refers to how well a property is able to illustrate its heritage value, based upon physical features that relate to a specific period of time, association or event. For example, a building valued for its Colonial Revival design could have integrity if it retains features that relate to Colonial Revival architecture, such as a centre doorway flanked by bays with symmetrical windows. A building could still have integrity despite subsequent alterations or additions.
Following an analysis of dates of construction and architectural styles, the consultant team determined whether houses constructed during the Home Smith Building Period (1911-1941) have sufficient integrity in order to reflect the design principles associated with this period of development. This was done in part by evaluating the degree of visible alterations to each house, taking into consideration architectural details, building materials, and additions.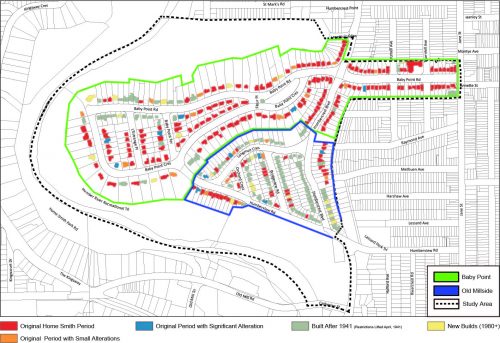 78 per cent of the houses in the Baby Point neighbourhood constructed during the Home Smith Building Period appear to have had few to no visible exterior alterations, and continue reflect the neighbourhood's garden suburb design principles. In contrast, only 33 per cent of the properties in Old Millside reflect this period of development, with greater variety in architectural style and features throughout the neighbourhood. The majority of houses in Old Millside (63 per cent) were built post-war.