Meetings & Events: Baby Point HCD Study
The next community consultation meeting will be held in January 2018
Public meetings and community advisory group meetings are listed below. Presentations, meeting summaries and discussion questions can be requested from Alex Corey, Heritage Planner,
Alex.Corey@toronto.ca
.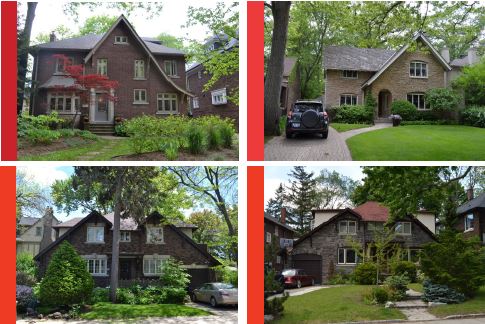 On November 2 and 9, 2017 City Planning staff and the consultant team, led by EVOQ Architecture, met with the Baby Point and Old Millside Community Advisory Groups to present the consultant's preliminary findings and recommendations and to solicit feedback and discussion. The meeting was facilitated by LURA Consulting, with a representative from Councillor Doucette's office (Ward 13 – Parkdale/High Park) in attendance.
The City's consultant's preliminary findings for the Baby Point HCD recommend City Planning revise the study area boundary and proceed to develop a HCD plan within the Baby Point neighbourhood (excluding Old Millside).
While Baby Point and Old Millside differ in the character of the homes, they are both components of the Baby Point Archaeologically Sensitive Area, and as such it is recognized that a coordinated approach be taken to ensure that archaeological resources are identified and conserved as work occurs within both neighbourhoods. The consultant recommends that the City develop a new planning tool, which may include but is not limited to an HCD, to conserve the archaeological resources within the Old Millside neighbourhood. This tool would not include provisions to conserve the architecture and built form of homes within Old Millside.
The HCD Study is ongoing and the consultant's final recommendations are anticipated to be presented to the public in January, 2018.
On June 26th and 27th the Baby Point and Old Millside Community Advisory Groups met at Humbercrest United Church. The decision to convene two separate neighbourhood advisory groups (one for Baby Point and one for Old Millside) was requested at the first community consultation meeting, held on March 27th.
The objectives of the advisory group meetings were to:
provide an update on the HCD Study
Review and confirm the advisory group Terms of Reference
Present the results of preliminary data collection, and review feedback from the first community consultation meeting
Discuss elements of significance and areas of concern with respect to heritage priorities within the neighbourhood
The discussion at both advisory group meetings contributed useful information for the project team on the features that define the Old Millside and Baby Point neighbourhoods, and provided an opportunity for community members to ask questions of clarification regarding the HCD Study process.
On Monday, March 27th, 2017 Heritage Preservation Services hosted the first community consultation meeting at Humbercrest United Church.
During the meeting and following community feedback, it was decided to proceed with two Community Advisory Groups – one for the Baby Point area, and one for the Old Millside area. Applications to participate were received until April 10, 2017.