Contra-Flow Bike Lanes on Brunswick Avenue & Borden Street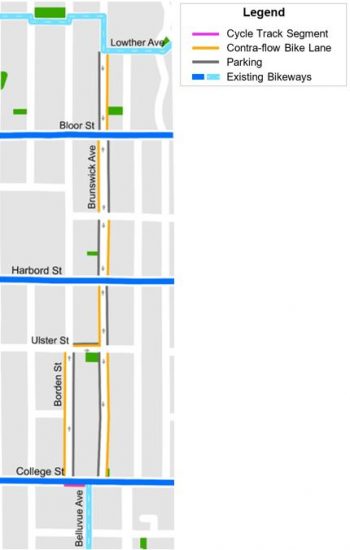 The City of Toronto is inviting residents to learn more and provide feedback on proposed new bikeways:
Contra-flow bike lane on Brunswick Avenue from Lowther Avenue to College Street
Contra-flow bike lane on Borden Street from Ulster Street to College Street
Contra-flow bike lane on Ulster Street from Borden Street to Brunswick Avenue
Two-way protected cycle track on College Street from Borden Street to Bellevue Avenue
Review Information Panels & Provide Comments Online
If you require assistance in reading these materials, please contact us.
Attend the Public Drop-in Event
View the information panels in print and discuss one-on-one with the project team.
Date: Monday, February 3, 2020
Drop-in: 6 to 8 p.m.
Location: Trinity-St. Paul's United Church (427 Bloor St. W.)
You can also contact the team using the information provided on this page.
Please provide your feedback by February 21, 2020.
Project Goals
Allow people to cycle both ways on the streets mentioned above so they can easily connect between multiple popular routes on College Street, Harbord Street, and Bloor Street
Improve comfort and safety for people travelling by foot and bicycle and promote the use of bicycles for short neighbourhood trips
Minimize impact to on-street parking and maintain access for people driving
Contra-flow Bicycle Lanes Explained
When a contra-flow bicycle lane is installed on a one-way street, the street becomes two-way for people cycling, but remains one-way for drivers. When a person cycling is traveling in the direction that motor vehicles travel, they share the lane with the motor vehicles. To travel in the opposite direction, people cycling use a dedicated contra-flow bicycle lane.
Contra-flow bicycle lanes are marked with a yellow line separation, compared to white lines for normal bicycle lanes. Toronto has many well-used contra-flow bicycle lanes, including:
Denison Avenue
Montrose Avenue
Knox Avenue
Strathcona Avenue
Chester Hill Road
Shaw Street
Why This Project is Being Proposed
Cycling is one of the fastest growing transportation modes in Toronto, and especially in this neighbourhood, which has some of the highest bicycle use in Canada. The City is working to make travel by bike safer and more inviting. Making it easier for people to choose to cycle helps ease congestion on the streets and transit, creates a cleaner environment and promotes a healthier public life.
This project would provide a legal and signed convenient north-south route on quiet streets in this busy cycling neighbourhood. In effect, this should reduce the incidence of illegal wrong-way cycling on other nearby north-south streets.
What This Project Means for You
If you drive or park on the street
Currently, parking alternates between sides of the street in some sections, but if approved, parking would be made permanent on one side. The dark gray lines on the map in this notice show the side where parking would be permanent. These proposed changes do not reduce parking, nor do they change the way the streets operate if you drive. There would be no motor vehicle traffic impacts. All laneway and driveway access would remain unchanged.
If you cycle
You would be able to travel north and south on these sections of Borden Street and Brunswick Avenue to make it easier and more comfortable to connect to existing east-west bikeways. Also, if you are travelling north on Bellevue Avenue, you would be able to turn left on the College Street two-way cycle track segment and stay on the south side to reach the signalized intersection at Borden Street and then continue north, creating a safer northbound cycling connection.
If you live in the neighbourhood
City services such as fire, emergency medical services, solid waste pick-up, and snow clearing will continue as usual. There will be no impact to existing sidewalks, traffic volumes or speed limits.
Next Steps
Following public and stakeholder consultation and subject to approval from City Council, the City of Toronto plans to install the proposed bike lanes on Borden Street and Brunswick Avenue and the cycle track segment on College Street in summer 2020.
---
The short URL for this web page is toronto.ca/BrunswickBorden