Downtown Construction Projects
The City of Toronto and the Toronto Transit Commission are completing various construction projects throughout downtown Toronto this spring, summer and fall. These projects are part of the Council – approved 2017 Capital Works Program to renew our aging infrastructure.
Below is a location map of the major downtown construction projects for 2017.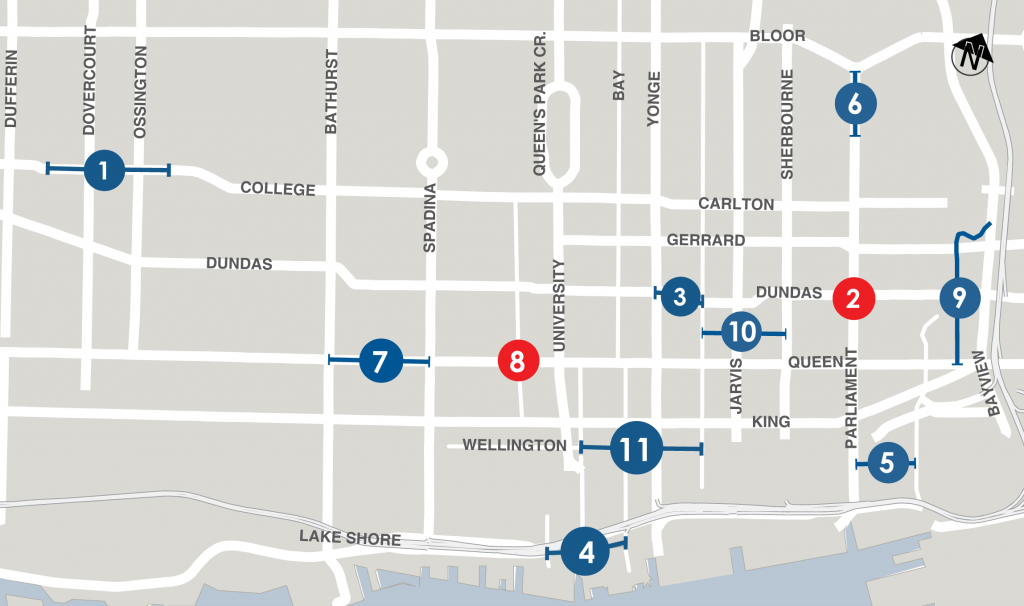 Ongoing 2017 Construction Projects
Planned Start Date
April 2017
Planned End Date
January 2018
Location
Lower Simcoe/Harbour Street
Description of Work
The City of Toronto is constructing a new off-ramp from the eastbound Gardiner Expressway to Lower Simcoe Street. The contractor will begin demolition of the existing off-ramp to York, Bay and Yonge Streets in April 2017 followed by construction of the new off-ramp to Lower Simcoe Street and improvements to Harbour Street between Lower Simcoe and Bay Streets.
Planned Start Date
June 19, 2017
Planned End Date
November 30, 2017
Contract
17ECS-TI-08SP
Location
Queen Street West (From Bathurst Street to Spadina Avenue)
---
Construction Update: November 17th
This year's Streetscaping work on Queen St. West is progressing well. Sidewalk work was completed in August, and the parkettes are scheduled to be complete by November 30th, 2017.
---
Work began in the construction zone on June 19, 2017. The Contractor was completing pre-construction building inspections and mobilizing equipment and materials at that time. Sidewalk reconstruction operations commenced Monday, June 26, 2017.
Description of Work
Starting the week of June 19, the City will begin the reconstruction of the sidewalks and adding streetscaping on Queen Street West from Bathurst Street to Spadina Avenue.
Improvements will include two new side-street parkettes on Denison Avenue and Ryerson Avenue, new tree plantings, street lighting and public art. The City will also begin to install infrastructure to allow for a future WI-FI connection to be provided by the Queen Street West BIA. Refer to the Frequently Asked Questions for more details.
This project will improve the quality of the sidewalk and street environment and is part of the Council approved 2017 Capital Works Program.
Traffic Restrictions
Traffic on Queen Street West will be reduced to one lane in each direction.
Watermain Pre-Construction Notice
Watermain Construction Notice
Streetscaping Construction Update #4
Construction Update #5
The City has a web-based map to help residents and visitors make their travel plans.
Information about the City's planned capital construction work is available on a web-based map.
TTC route diversions are outlined in each projects construction notice, or you can visit TTC Route Diversions.
Local Councillors