Pedicab Driver
A pedicab is a vehicle that can be pulled or pushed by a person, with or without an electric motor. A pedal-powered rickshaw is also considered a pedicab. Both the pedicab owner and driver are required to be licensed. For example, if you own and drive a pedicab, you will need two licences – owner and driver.
How To Apply
Please review application requirements outlined below and complete any required forms.
Visit the Licence & Permit Issuing Office at East York Civic Centre located at 850 Coxwell Ave, 3rd floor as applications must be processed in person.
Note: As of June 3, 2019, applications will not be accepted unless all documents are submitted.
Application Requirements
Identification Requirements
Original documents required for all applications (and renewal transactions).
Two pieces of government-issued identification (one must be photo ID):
Canadian Passport
Driver's Licence
Canadian Birth Certificate
Citizenship Card
Permanent Resident Card
SIN Card (Social Insurance Number)
Valid Work Permit
Note:
First and last names must match on all identification
We do not accept Health Cards
Criminal Record & Judicial Matters Check
Applicants must provide an original Criminal Record and Judicial Matters Check issued by a Canadian Police Service within 280 days prior to the application.
A designate applying on behalf of a corporation must also provide a Criminal Record & Judicial Matters Check for each officer and director of the Corporation.
Driving Record Abstract
A copy of the applicant's driving record abstract: a three year driving history recorded by the Ministry of Transportation.
This record should be less than 30 days old.
Photo
Staff will take a photo of the applicant, if a Sole Proprietor, at the Licence & Permit Issuing Office.
Examples of Pedicabs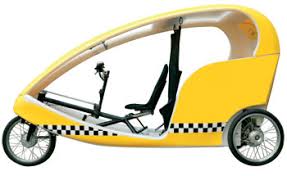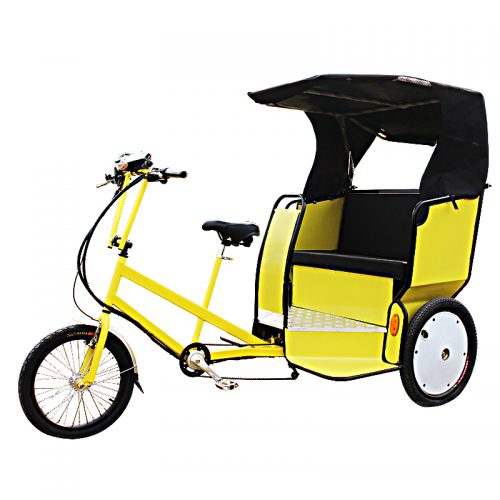 What Happens After You Apply
After a completed application and all documents are submitted, staff will determine whether there are concerns with the applicant obtaining a licence.
Licence Renewal Information
Your licence will expire annually on the anniversary of the date that the licence was first issued.
The renewal fee for drivers is $299.05
The renewal fee for owners is $287.02
A renewal notice, identifying any documents required to renew the licence, will be mailed to the address on file.
Payments received after the licence expiry date are subject to late fees in addition to the annual licence fee.
If you fail to renew your licence according to the bylaw, your licence will be cancelled and you will have to reapply.