Sidewalk Café Permit
Sidewalk cafés, formerly known as boulevard cafés, are outdoor eating areas located on sidewalks where food or drinks is served to the public by a licensed eating or drinking establishment.
About Sidewalk Cafés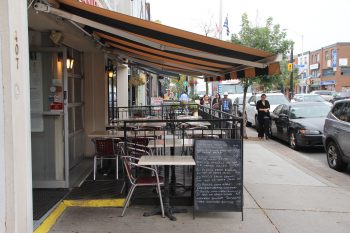 Frontage Café
A sidewalk café that is located immediately adjacent to the frontage wall of the associated establishment.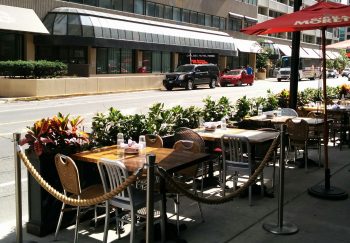 Curbside Café
A café that is located close to the curb. Pedestrians walk between the café and the building frontage. Wait staff cross the pedestrian clearway to deliver food and beverages to the café.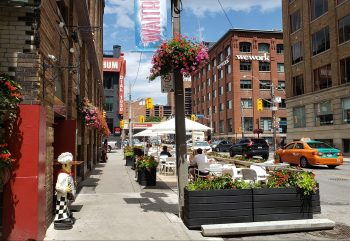 Parklet Café
A café that is located in the parking lane of a street upon a platform that is constructed to make the café level with and accessible from the sidewalk.
Who Can Apply?
Individuals, partnerships or corporations.
How to Apply
Please review application requirements outlined below and complete any required forms.
Visit the Licence & Permit Issuing Office at East York Civic Centre located at 850 Coxwell Ave, 3rd floor to submit your application in person.
Application Requirements
Review the regulations in the new bylaw for sidewalk cafés.
Download the application guide to review the requirements for your permit.
Identification Requirements
One piece of valid government issued identification is required for an officer or signing authority (for corporations), who appears on the Primary Business Licence.
Site Plan of Proposed Sidewalk Café
All applications must include:
Three copies of a professionally drawn site plan showing all dimensions of the proposed sidewalk café.
Measured distances between the proposed sidewalk café, the location of the street and face of the curb. Side property lines, fire hydrants, trees, and other permanent objects on the street must be included.
Note:
All measurements must be in metric.
Awning Documents
Submit the following with your application if the proposed sidewalk café will have an awning:
Certificate of Fireproof rating
Mechanical specifications of the awning
The awning checklist included in the application package.
Photos
All applications must include:
Three photos of the sidewalk cafe; one from the front and one from each side.
Photos of any awnings.
Insurance
Proof of at least $2,000,000 of comprehensive insurance against loss or damage resulting from bodily injury to or death of one or more persons, or from loss of or damage to property resulting from any one accident.
The completed insurance form must be signed and stamped by the insurer.
Application Fee
Fee Zones
There are two permit fee zones:
Central Zone: the downtown area as defined in this map. The boundaries are Bathurst Street to the west, the Dupont rail corridor to the north, Rosedale Valley to the north-east and Don River to the east.
Outer Zone: the remaining area outside of the central zone.
Permit Fees
| Fee Zone | Sidewalk Café ($/m2) |
| --- | --- |
| Central Zone | $99.79 |
| Outer Zone | $49.88 |
Permit Fees for Parklet Cafés
Central Zone: $1,235.09/ month
Outer Zone: $771.79/month
Application Fees
Sidewalk café application fee is $977.45.
Permit transfer fee: $764.19
There are no application or permit fees for small frontage cafés, which are no more than 0.8m x 5.5m.
Screening Criteria
ML&S shall deny an application for, or a renewal, for all businesses required to be licenced under this chapter that has:
Been convicted at any time of a sexual offence against a minor or a person with a disability under any of sections 151 to 153.1 of the Criminal Code;
Been convicted of any sexual offence under the Criminal Code in the preceding ten years;
Been convicted of an offence under the following Criminal Code sections in the preceding five years:

84 to 117.15 (Firearms and Other Weapons);
264.1 to 286.1 (Offences Against the Person);
321 to 378 (Offences Against Rights of Property);
379 to 462 (Fraudulent Transactions, Wilful and Forbidden Acts of Certain Property, Offences Relating to Currency);
462.3 to 462.5 (Proceeds of Crime).

Been convicted at any time of an offence under the following Criminal Code sections:

83.01 to 83.33 (Terrorism);
219 to 248 (Major Offences Against the Person);
267, 268, 270.01, 272, 273 (Major Assaults or Major Sexual Assaults).

Been convicted of an offence under the following Controlled Drugs and Substances Act sections in the preceding ten years:

5 (Trafficking);
6 (Importing and exporting);
7 (Production);
7.1 (Possession for use in production or trafficking).

Been convicted of any offence under section 4 (Possession or obtaining) of the Controlled Drugs and Substances Act in the preceding five years;
Been convicted of five or more offences under Chapter 545 or 546 of the Toronto Municipal Code in the preceding three years;
Any overdue by-law fines, unless the applicant provides proof that such fines have been subsequently paid.
Despite these screening criteria, if a licence has been previously issued or renewed and the applicant's or licensee's record discloses no new breach of the screening criteria, the licence may be issued or renewed without the matter being referred to the Toronto Licensing Tribunal.
These screening criteria do not apply to any offence for which a licensee or applicant has been granted a criminal record suspension (i.e. a pardon) by the Parole Board of Canada.
What Happens After You Apply
Applications take six to eight weeks to process. Staff will contact you via email or hard copy letter with instructions once your application has been approved.
Permit Renewal Information
Your permit will expire annually on the anniversary of the date that the permit was first issued.
The renewal fee will be calculated based on a variety of factors, including where your patio will be located
A renewal notice, identifying any documents required to renew the permit, will be mailed to the address on file.
Payments received after the permit expiry date are subject to late fees in addition to the annual permit fee.
If you fail to renew your permit according to the bylaw, your permit will be cancelled and you will have to reapply.