Sidewalk Cafés & Marketing Displays Review
City of Toronto is reviewing the existing bylaws for sidewalk cafés & marketing displays. The purpose of this review is to harmonize the bylaw so that consistent standards are applied across the city. As part of the review, the City is proposing updated fees, as well as new standards and options for marketing displays and sidewalk cafés (for example, curbside cafés and parklet cafés).
View the presentation from the public consultation held on Thursday, January 31, 2019.
Input obtained throughout the review process will be used to inform the harmonized bylaw that City Council will consider this spring.
Contact Hamish Goodwin for inquiries about fees and enforcement and Janet Lo for inquiries about café design and pedestrian clearways.
About Sidewalk Cafés and Sidewalk Marketing Display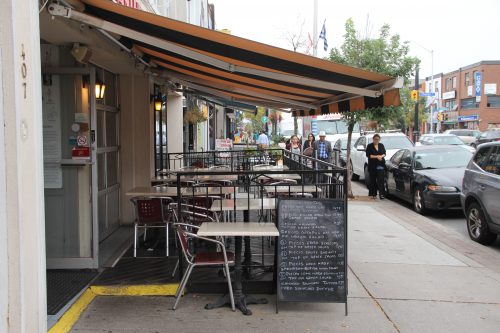 Sidewalk café
In the former municipalities of the City of Toronto (except in Scarborough), restaurant/café owners can apply for a "outdoor café " permit, allowing them to operate a "café " or patio on the public right-of-way (boulevard/sidewalk).
---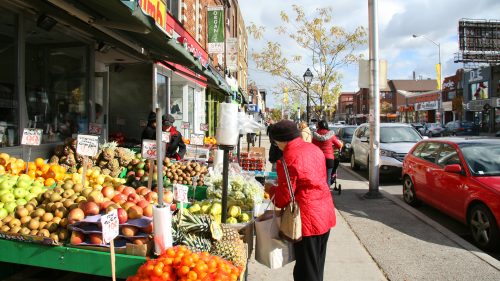 Sidewalk marketing display
In the former municipalities of the City of Toronto (except in Scarborough), retail business owners can apply for a "outdoor marketing display" permit, allowing them to operate a stall outside of their business on the public right-of-way (boulevard/sidewalk) to offer their goods and merchandise for sale.
Phases of the Review
Phase 1: Stakeholder & Public Consultations
The purpose of this phase was to obtain stakeholders and public input on the proposal to harmonize sidewalk café and marketing bylaws. Staff accepted input through consultations, meetings, online survey and comments/feedback form, email, voice messages and written submissions.
Phase 2: Research and Analysis
Staff compiled and reviewed suggestions from Phase 1, while performing research and analysis of Toronto businesses and other jurisdictions. Through this phase, the framework for harmonization was developed.
Phase 3: The Initial Report
In December 2017, a joint meeting of the Licensing and Standards Committee and the Public Works and Infrastructure Committee considered a report recommending a harmonized bylaw. The committee referred the report back to staff and requested further information about the proposal.
Phase 4: The Final Report
Following the December 2017 meeting, staff revised some aspects of the original proposal and undertook additional consultations. A revised report recommending a harmonized bylaw will be considered by the Economic and Community Development Committee at the end of Q1 2019 (to be confirmed).
Proposed Permit Fees for Sidewalk Cafes & Marketing Displays
A permit fee is an annual fee that a business pays to the City for the right to use public space for commercial purposes. The authority to impose this fee comes from section 259(1)(c) of the City of Toronto Act, 2006 which states that the City can impose a fee or charge "for the use of [the City's] property".
Existing Permit Fees
Fee Zone
Café Permit Fee (m2/year)
Marketing Permit Fee(m2/year)
Toronto Area 1
$90.72
$103.17
Toronto Area 2
$45.35
$51.67
Toronto Area 3
$22.69
$25.85
York
$5.50
$5.50
East York
$24.69
$24.69
Etobicoke
$11.00
$11.00
North York
$114.12
$114.12
Scarborough
Sidewalk cafés are not currently permitted in Scarborough
Proposed Permit Fees*
| Proposed Fee Zone | Sidewalk Café ($/m2) | Sidewalk Marketing Display ($/m2) |
| --- | --- | --- |
| Central Zone | $88.31 | $62.65 |
| Outer Zone | $44.14 | $38.12 |
 * Notes i.         The Outer Zone permit fee would apply along both sides of the proposed boundary.ii.        No permit fees are proposed in the case of a Small Sidewalk Café and a Small Marketing Display.
Proposed Implementation of New Permit Fees
The proposed fees will not be subject to inflationary increases for 10 years.
New applicants: Proposed fees would take effect immediately.
Existing permit holders:

Any reductions resulting from the proposed fees would take effect immediately (i.e. permit fees in North York would be reduced by up to 60%).
Where the proposed fees result in an increase, the increase would be phased in equally over a 10-year period.
Proposed Parklet Café Permit Fees*
Central Zone: $1093 per month
Outer Zone: $683 per month
* Note: The proposed parklet café permit fees are based on the average size of a parking stall, which is 14.3 m2
Proposed Application Fee and Proposed Fee for Tree Planting
As per the City's User Fee Policy, the proposed application fee has a foundation in cost recovery. This includes costs to intake the application, process payment, circulate it to other divisions, conduct site inspections, undertake public notice, and coordinate with the applicant and other stakeholders as necessary.
Sidewalk Café Application Fee: $865
Marketing Display Application Fee: $765
Proposed Fee for Tree Planting: $650
No application fee or permit fee is proposed for a small frontage café and a small marketing display.
The tree planting fee is a one-time fee that would only be paid when:
A new permit is approved at a location where there is a soft, unpaved boulevard.
Urban Forestry has determined that the proposed use (café or marketing display) would limit the ability to plant a tree there.
The fee for tree planting would not be required if:
There is no available space to plant a tree.
There is already a tree at the proposed café or marketing location.
The application is for a small frontage café or a small marketing display.
Stakeholder & Public Input
The proposed harmonized bylaw has been informed by extensive consultations with the public and stakeholders. Since 2014, more than 30 consultations and public meetings have been held throughout the city, as well as two online surveys. In 2017, summer students were hired to survey all sidewalk café and marketing display locations in the city. Information and data analysis from this survey informed recommendations. Groups consulted included café and marketing permit holders, local Business Improvement Areas, the Ontario Convenience Store Association, the Ontario Restaurant, Hotel and Motel Association, local resident and ratepayer groups, pedestrian and accessibility advocates, and the general public.
Presentations & Relevant Legislation and Decisions
Presentations
By-laws that govern Toronto sidewalk cafés and marketing include:
Chapter 743, Use of Streets and Sidewalks.
Chapter 313, Streets and Sidewalk of the Former City of Toronto.
By-law 16-97 of the Former City of East York, Boulevard – Commercial Displays – To regulate and permit the leasing or licensing of the use of the untraveled portion of public highways for certain purposes.
By-law No. 41-93, To delegate to certain area municipalities the authority to lease or license the use of sidewalks, boulevards and untraveled portions of Metropolitan Roads.
By-law Number 29607, a By-Law for leasing or licensing the use of untraveled portions of roads under the jurisdiction of the Corporation of the City of North York.
By-law 3343-79, Respecting Streets in the Borough of York.
Related legislative decisions