About the Gardiner Expressway
The Gardiner Expressway was built during the late 1950s and early 1960s. It is a critical piece of transportation infrastructure, providing access to downtown Toronto from the surrounding suburbs of the Greater Toronto Area.
Approximately 140,000 (weekday average) vehicles travel daily on the Gardiner Expressway.
By the late 1940s, the City of Toronto saw as many as 105,000 cars passing through downtown on a daily basis. To keep up with the times and accommodate vehicles, the City needed to build higher capacity roads than the ones initially designed for horse carts and trams.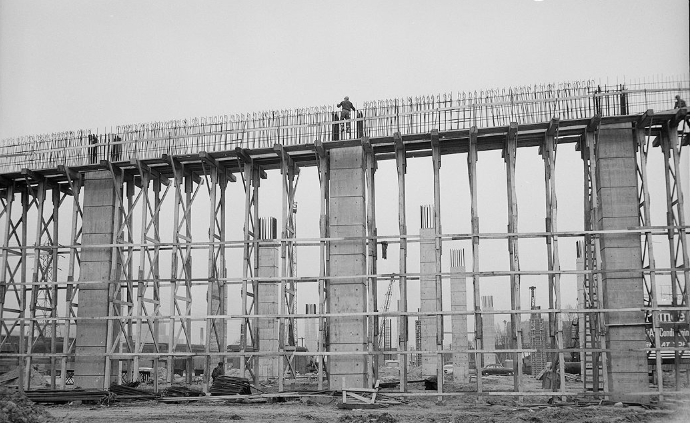 Construction on the F.G. Gardiner Expressway began in 1956.
The Expressway was named after the first chair of the former Metro Toronto Council, Frederick G. Gardiner who was a strong advocate for the project.
The Gardiner was built in segments and completed in 1965 at a cost of approximately $103 million.
As with any aging infrastructure, the effects of weather, salt and the impacts of thousands of vehicles on its surface every day has taken its toll on the Gardiner. In 2013, the City embarked on a robust maintenance program to keep the entire expressway in a state of good repair, leading to the Gardiner Expressway Rehabilitation Strategy.
The Gardiner Expressway is 18 kilometres long and extends from Highway 427 in the west, to Logan Avenue in the east.
The Expressway is divided into two sections: at-grade (ground level) and elevated (above ground).
The at-grade section is 11 kilometres long and extends from approximately from Highway 427 to 300 metres east of Dufferin Street. It includes 32 structures consisting of bridges, retaining walls and culverts (structures that allow water to flow underneath).
The elevated section is 7 kilometres long and extends from east of Bathurst Street to the Don Valley Parkway ramp. This section includes a total of 17 ramps (on and off ramps) and consists of 335 spans (structures that bridge upon support structures) on top of 334 bents (bridge support structures).
The elevated section of the Gardiner consists of three different bridge structures that support the steel reinforced concrete deck as a result of the time in history when the sections were built, material availability and new methods and construction innovation of the day.
From Dufferin Street to the CNE, the elevated expressway features a concrete t-beam structure. From Jarvis Street to the Don Valley Parkway and Exhibition Place to York Street, these sections feature a steel girder structure. From York to Jarvis Street, this section features a concrete box girder.
To ensure the safe and operable condition of the Gardiner Expressway now and in the future, the City devised a plan for its strategic rehabilitation that is currently underway. Below is Toronto City Council's decision-making history related to the strategic rehabilitation and the Gardiner Expressway East Environmental Assessment that was later incorporated into this work:
Learn more about the Gardiner Expressway Strategic Rehabilitation Plan and Gardiner Expressway East Realignment.