ResilientTO
As a member of the 100 Resilient Cities Network (100RC), a global community of cities working together to build urban resilience, the City is working to improve our resilience to the physical, social, and economic challenges of the 21st century.
In Toronto, these challenges include climate change and extreme weather, and a variety of issues specific to our city, such as inequality, aging infrastructure, housing, and transit.
Through 100RC, the City will have the facility to share resilience knowledge and best practices, and foster relationships and partnerships with other leading cities. In addition, the City is receiving funding and resources to:
hire a Chief Resilience Officer to coordinate, oversee, and prioritize resilience-building activities
support the development of a comprehensive Resilience Strategy for Toronto
collaborate with the 100RC Platform of Partners to support the implementation of Toronto's Resilience Strategy, including solutions that integrate big data, analytics, technology, resilience land-use planning, infrastructure design, innovative financing supports, and insurance products
Hired in June 2017, Toronto's Chief Resilience Officer, Elliot Cappell, will lead the city-wide resilience-building efforts and oversee the development and implementation of a comprehensive Resilience Strategy. The position is fully funded by 100 RC.
In partnership with 100 Resilient Cities (100RC), the City formally kick-started a process to develop and implement a resilience strategy in December 2016.  Toronto's Agenda Setting Workshop brought together more than 110 stakeholders from a broad range of sectors to begin to identify and discuss the critical issues to be considered in preparing Toronto's resilience strategy.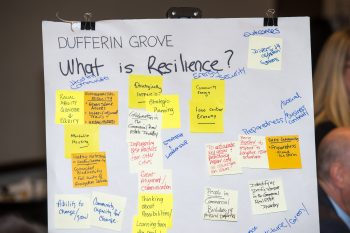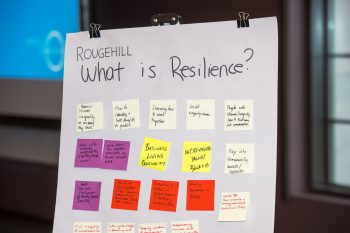 The Resilient City Working Group, established in 2013, facilitates collaboration between City Divisions, Agencies, Corporations and external stakeholders on the topic of climate change resilience. Members share knowledge and technical information to facilitate the implementation of resilience actions within their operations.
Membership:
City Divisions:

City Planning
Engineering and Construction Services
Environment and Energy Division
Facilities Management
Insurance and Risk Management
Legal Services
Office of Emergency Management
Parks, Forestry and Recreation
Purchasing and Materials Management
Shelter, Support and Housing Administration – Tower Renewal
Social Development, Finance and Administration
Toronto Building
Toronto Fire Services
Toronto Public Health
Toronto Water
Transportation Services

Hydro One
Metrolinx
Toronto Hydro
Toronto and Region Conservation Authority
Toronto Transit Commission
The City's Climate Change Risk Management policy, adopted in 2014, defines roles and responsibilities, and establishes the necessary processes and controls to systematically identify, assess and take action to mitigate risks arising from climate change.
The policy commits the City to:
monitor and research how the climate is changing to establish a common set of future weather assumptions that may be used to identify, assess and manage risks that may impact Toronto;
mitigate risk to the City's assets and services by integrating identified risk information into decision making to help inform priorities for investment;
establish methods to evaluate initiatives undertaken by the City through the lens of climate change resilience;
continue to reduce and manage risks to its employees and contractors resulting from a changing climate;
build awareness and establish meaningful partnerships with the community, residents, the private sector and the broader public sector; and
share knowledge and information with external organizations to promote engagement in enhancing extreme weather resilience on a broader scale.