DRP E-Updates
DRP E-Update No. 61, November 1, 2018
The Design Review Panel (DRP) is a group of independent design professionals, including architects, landscape architects, urban designers and engineers. They review large-scale private development and public projects, and provide objective advice aimed at improving design of the public realm. Panel meetings are open to the public and interested persons are welcome to attend.
Next Meeting: Thursday November 1, 2018
Toronto City Hall, Committee Room 2 (2nd floor)
12:30 p.m. – West Toronto Railpath Extension Detailed Design (2nd Review)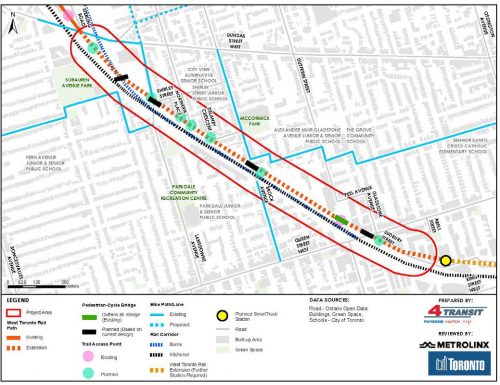 Application: Transit Infrastructure
COT Transportation Services; Metrolinx
Presentations:
Saikat Basak, Transportation Services; Svetlana Lavrentieva and Deanne Mighton, Urban Design
Hatch, Forrec and Montgomery Sisam
The City of Toronto has completed a study for the next phase to extend the West Toronto Railpath from Sterling Avenue (at Dundas Street West), along the Kitchener GO rail corridor to just south of Queen Street West (at Abell Street).
Find out more: West Toronto Railpath Extension
2:15 p.m. – 5509 Dundas Street West (1st Review)
Application: Site Plan Approval & Rezoning
Contessa Developments Inc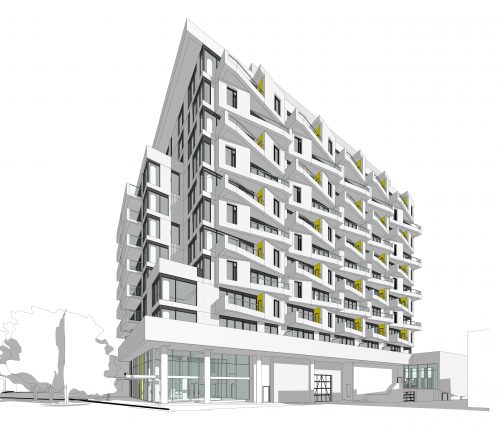 Presentations:
Shan Li, Urban Design
Bogdan Newman Caranci, Urban Strategies
Proposal for a mid-rise building on a vacant lot. The proposed building is 12 storeys with 110 residential units and retail at grade
Find out more: 5509 Dundas St W
3:35 p.m. – 1800 St. Clair Ave. W/423 Old Weston Rd (1st Review)
Application: OPA & Rezoning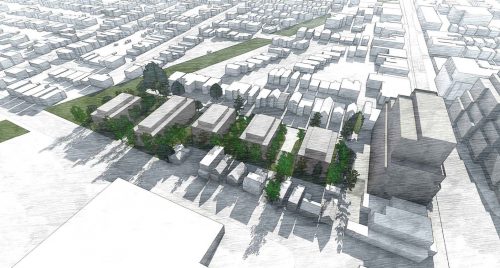 Diamondcorp & Kilmer Brownfield Management Ltd
Presentations:
Sabrina Salatino, Community Planning; Allison Reid, Urban Design
Ken Greenberg, Greenberg Consultants Inc.; Wayne Swanton, Janet Rosenberg & Studio; Kevin Martin, Giannone Petricone Associates
Open Door Application to remove the two abandoned buildings, remediate the Site, and introduce six new buildings, including five low-rise blocks of stacked 3.5-storey townhouses, and a proposed 11-storey building with retail and live-work space at grade fronting on to St. Clair Avenue West.
A total of 256 residential units are proposed, of which 96 are townhouse units and 160 are mid-rise units. 20 of the 96 townhouse units will be developed as affordable ownership units in partnership with Habitat for Humanity Greater Toronto Area.
Find out more: 1800 St Clair Ave W/423 Old Weston Rd
4:45 p.m. Adjournment
Our Latest Design Reviews
Read the latest reviews of planning applications and public projects in Toronto.
Design Review Members
The Design Review Panel is composed of 17 multi-disciplinary design-focused professionals including architects, landscape architects, urban designers, and engineers.
Design Review Network
In addition to the City Panel, two other panels operate in the following areas of Toronto:
Connect With Us
Email: designreviewpanel@toronto.ca
Twitter: @CityPlanTO