Yonge TOmorrow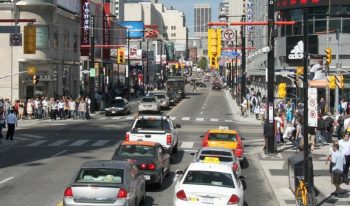 Yonge Street is Toronto's "main street." It is a vibrant area where thousands of people visit, live, work, play and learn. In the heart of Yonge Street, between Queen Street and College/Carlton Street, the sidewalks are filled with the highest pedestrian volumes in Canada, at all hours of the day and throughout all seasons of the year.
This study will develop and review design options intended to improve streetscaping and increase pedestrian space, along with other possibilities to improve the way people move through and enjoy Yonge Street between Queen Street and College/Carlton Street.
This study will be carried out as a Schedule 'C' Municipal Class Environmental Assessment (EA).
A Phase 2 EA study will look at potential changes to Yonge Street north of College/Carlton Street to Davenport Road.
Opportunities
This study will consider many possible changes to various elements of Yonge Street including:
Increasing the sidewalk width
Reducing the number of vehicle lanes
Redesigning intersections and laneway connections
Making some sections pedestrian-only
Improving accessibility for people with disabilities
Installing cycling facilities
Improving pedestrian crossing opportunities
Enhancing street furniture
Changing the landscaping
Reviewing other aspects of the streetscape and street furniture, such as lighting, signage, info pillars, publication boxes, and litter bins
Expanding opportunities for public art and cultural activities
Modifying other near-by streets
Decisions about possible changes have not been made. Further study is required.
Considering Trade-Offs
The Study will investigate what is physically able to fit within the limited width of the City's right-of-way (i.e., public property) on Yonge Street. There will be challenging trade-offs between alternatives to be evaluated.
Some of the many considerations include the following:
Existing policies within the Official Plan and applicable Secondary Plans
Current and ongoing studies within the Study Area
Current and projected volumes of pedestrians, cyclists, transit users and motor vehicles
Minimum and recommended widths for traffic lanes, bike lanes/cycle tracks and pedestrian clearways
Requirements and impacts to existing and planned underground utilities
Provisions for TTC night buses and emergency shuttle buses (when there is a disruption on the Yonge subway)
Options for deliveries, and pick-up and drop-off to serve local businesses
Design considerations for pedestrian-only street events
Capital and maintenance costs and complexity of construction and on-going maintenance
The Project Team will work with experts, stakeholders and the public to develop and evaluate the alternatives and design options.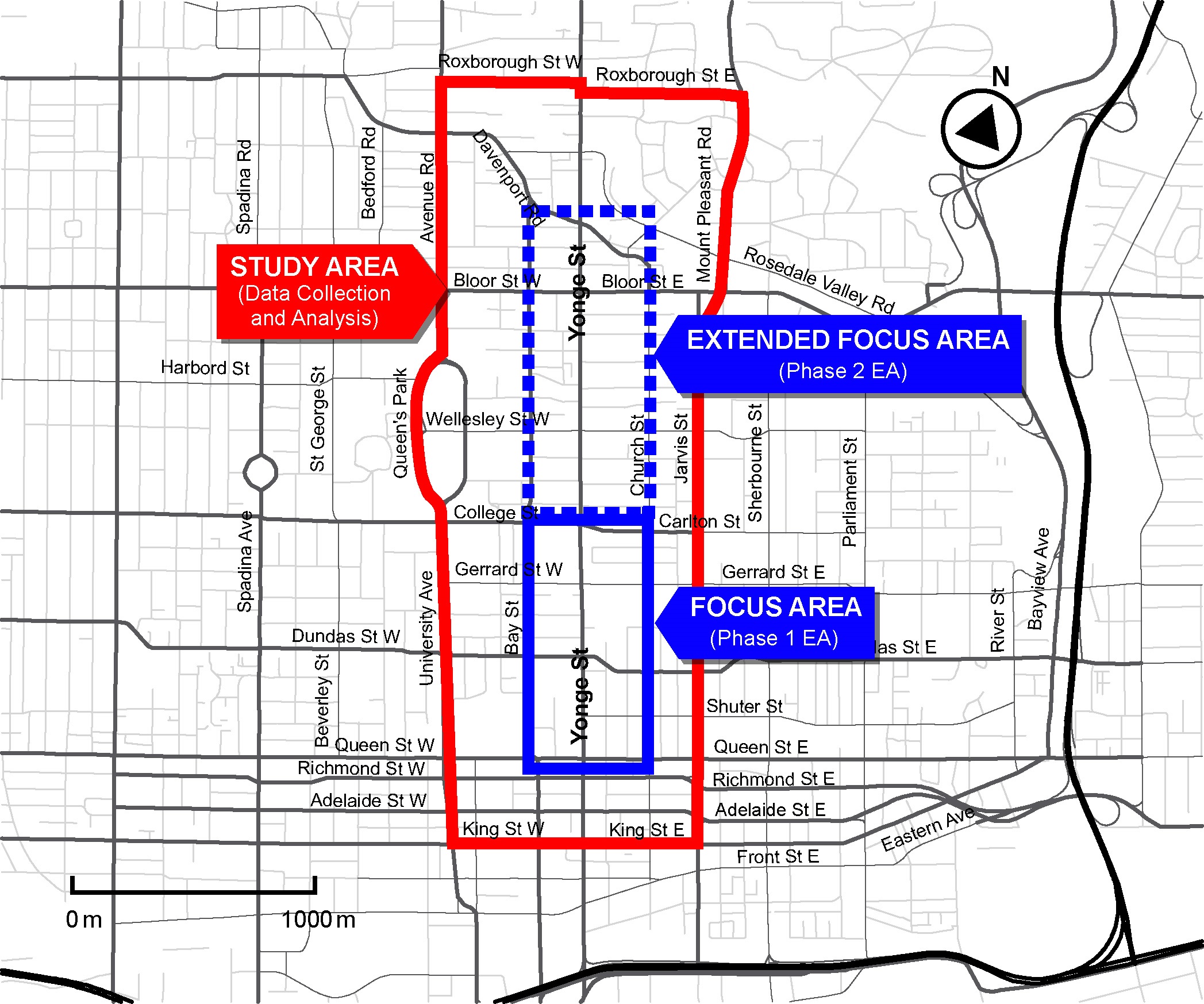 The opinions and input of all road users, local property representatives and other stakeholders will play an important role in forming the Study's recommendations. We want to hear from you!
Further details about upcoming online and face-to-face public consultation opportunities will be published in the coming months.
Subscribe to Our Mailing List
The City respects your privacy – your email address will not be shared without your permission. Information will be collected in accordance with the Municipal Freedom of Information and Protection of Privacy Act and the Environmental Assessment Act. With the exception of personal information, all comments will become part of the public record.
What is a Class Environmental Assessment?
Ontario's Environmental Assessment (EA) program promotes good environmental planning by determining and managing the potential effects of a project prior to implementation.
The EA program ensures that public concerns are heard. EA balances economic, social, cultural and natural environmental needs so that projects benefit Ontario.
This study is being carried out according to the Municipal Class Environmental Assessment process. This is an approved approach to satisfying requirements of the Environmental Assessment Act specifically tailored to municipal infrastructure. The process includes identifying the problem or opportunity to be addressed, developing and evaluating a range of alternative solutions, providing opportunities for public input and identifying a preferred solution.