Changing Lanes: Meetings & Events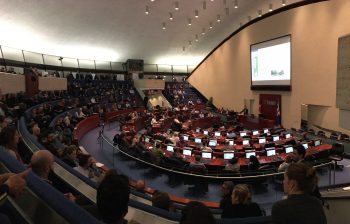 The Toronto City Planning Division holds community consultation meetings where you can learn more about an initiative or application, ask questions, and provide us with your comments.  We will be hosting a number of consultation meetings as work continues on Changing Lanes.
City Council Meeting - June 28, 2018
On June 28, 2018, City Council adopted the Official Plan and Zoning By-law amendments permitting laneway suites in R zones under Zoning By-law 569-2013 in the Toronto and East York District.
Changing Lanes 2nd Community Meeting - March 29, 2018
Thursday, March 29, 2018
6:30 p.m. to 9 p.m.
Presentation at 7 p.m.
Metro Toronto Convention Centre
222 Bremner Boulevard, Room 203
The purpose of this community meeting was to present a set of draft policy changes and regulations to allow the construction of laneway suites in the back yard of low-rise residential properties in the neighbourhoods in the Toronto and East York District. The City is seeking your feedback before they are considered by City Council.
A copy of the presentation can be accessed by clicking here.
Changing Lanes Kick-off Community Meeting - November 30, 2017
The Changing Lanes Kick-off meeting was held on November 30, 2017. The meeting was attended by approximately 250 people. The meeting included a staff presentation, a town hall style question and comment period, and an open house. City staff from the City Planning, Engineering and Construction Services, Parks, Forestry and Recreation, Solid Waste, Toronto Buildings, Toronto Fire Services, Toronto Water, and Transportation Services Divisions were present to respond to questions and listen to community comments.
If you would like a copy of the presentation, please contact Graig or George.