Background – Keele Finch Plus
Study Overview
Toronto is growing. As time passes, more people visit, work, and live in our city. This is happening because Toronto is desirable. We need to make sure that the Toronto of the future continues to be desirable. The City of Toronto is working with partner agencies to achieve this.
Two of the City's partners – Metrolinx and the TTC – are working to help ensure that current and future Torontonians can move about in an efficient manner. The TTC is constructing an extention to the Line 1 subway to Vaughan, with a stop at Keele Street and Finch Avenue West. This new subway is expected to be open at the end of 2017. Similarly, Metrolinx is investing in the Finch Avenue West Light Rail Transit (LRT) line. This line is expected to run from Keele Street to Humber College, mainly along Finch Avenue West. The LRT is expected to begin construction in 2018, and to be open by 2022. These two lines meet at Keele Street and Finch Avenue West and will act as significant stimuli toward change in the area.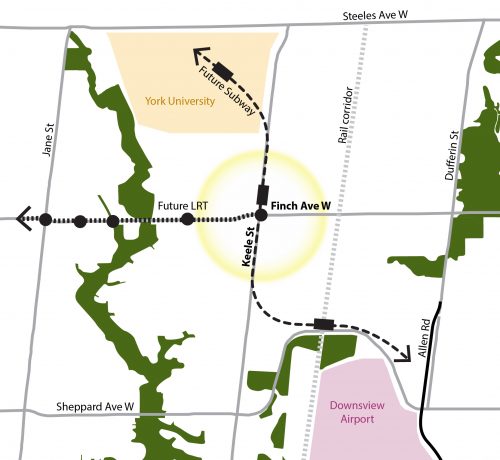 The Keele Finch Plus Study is complementary to Metrolinx and the TTC's work. The Study is about evaluating options to take advantage of new transit infrastructure around Keele Street and Finch Avenue West. The transit infrastructure is being designed to accommodate a growing Toronto, but we need to make decisions about how to grow with transit. This includes thinking about where people will live and work, how to improve access from local neighbourhoods to transit and what kind and size of buildings will be in the area in the future.
A parallel process is underway to design the streetscape along the Finch Avenue West LRT route between Humber College and Keele Street to current City of Toronto standards.
Much of the ground work is already complete. This was achieved through other processes and efforts, including public consultation. For example, much of the area near Finch Avenue West between Keele Street and the rail corridor is designated Employment Areas in Toronto's Official Plan. This means that this area is protected for employment uses only, but that more intensive employment uses may be possible. Similarly, the Keele and Finch area is a designated 'Mobility Hub' in the Regional Transportation Plan (Metrolinx's Big Move), which means it is identified as an area that can handle significant intensification along with transit infrastructure. How that will be achieved will be determined with your help through the Keele Finch Plus Study.
The foundations set up for the future of Keele and Finch are directions and guides, but more work needs to be done. Make sure you get involved to have your voice heard and help us build on this foundation! Visit the 'Get Involved' for more information.