Scarborough Centre on the Move
The meeting summary from our third public consultation meeting on November 22, 2017 is now available!
Over the next 20-30 years, Scarborough Centre is expected to change significantly through development and public sector investments. The Scarborough Centre on the Move study will guide these changes and establish a transportation network supportive of all users, focusing on building connections within the Centre as well as to the surrounding area and the rest of the City. The study will support the vision and evolution of Scarborough Centre into a walkable and connected urban centre, with an efficient, safe, and balanced transportation network.
The Scarborough Centre on the Move study is a Transportation Master Plan that will be conducted to satisfy the requirements of Phases 1 and 2 of the Municipal Class Environmental Assessment (Class EA) process in accordance with the Environmental Assessment Act. This Class EA process provides for:
Public input at key stages
Identification of problems/opportunities
Developing and evaluating a reasonable range of transportation network alternatives
Selecting a preferred transportation network
Sign up for E-Updates by selecting Scarborough Centre on the Move, entering your email address, and clicking Subscribe.
Study Area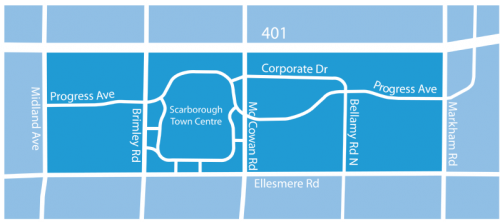 We welcome your insights and comments at this point, and throughout the Scarborough Centre on the Move Transportation Master Plan study. Right from study initiation and well in advance of the public consultation meetings, City staff were already engaging the public at Planners in Public Spaces (PiPS) events to get people's ideas on opportunities for change in Scarborough Centre.
Study Initiation and Early Engagement Summary
The first public consultation meeting took place on November 29, 2016 (6pm to 9pm) at Scarborough Civic Centre. 14,338 notices were sent out to the local community in advance of the meeting. Notices were also placed in the Scarborough Mirror on November 17 & 24, 2016. Materials related to the first public consultation meeting are available below:
Public Meeting # 1 Presentation
Public Meeting # 1 Summary Report
The second public consultation meeting took place on May 10, 2017 (1:30pm to 9pm) at Scarborough Civic Centre. Over 15,000 notices were sent out to the local community in advance of the meeting. Notices were also placed in the Scarborough Mirror on April 27 & May 4, 2017. Materials related to this public meeting are available below:
Public Meeting # 2 Presentation
Public Meeting # 2 Discussion Guide
Public Meeting # 2 Summary Report
The third public consultation meeting took place on November 22, 2017 (6:00pm to 8:30pm) at Scarborough Civic Centre. Over 15,000 notices were sent out to the local community in advance of the meeting. Notices were also placed in the Scarborough Mirror on November 9 & November 16, 2017. Materials related to this public meeting are available below:
Public Meeting # 3 Presentation
Public Meeting # 3 Comment Form
Public Meeting # 3 Summary Report
The study's Local Advisory Committee (LAC) meetings took place on February 7, April 20 and November 1, 2017 at Scarborough Civic Centre. The sessions generated great discussion and provided valuable insights to the study team moving forward. A link to the meeting summaries is provided below:
Local Advisory Committee Meeting # 1 Minutes
Local Advisory Committee Meeting # 2 Minutes
Local Advisory Committee Meeting # 3 Minutes