TOcore: Overview
Downtown is a vibrant and complex place. It's full of tall buildings, neighbourhood spaces (like libraries and community centres), and many jobs and homes. It's also made up of the spaces between buildings, spaces like streets, parks, sidewalks, and squares. Downtown is where Toronto gathers—a place to stroll, shop, eat, take in the scene, be entertained, or enjoy our amazing public places. Then there are the things we sometimes take for granted, like the pipes that carry our water and wires that bring us power. All of these things work together to make Downtown the place it is today.
As Downtown continues to grow, we need a new plan to help shape its future. This is the moment to determine the bold policy changes and transformative infrastructure moves needed to ensure Downtown continues on a path towards a more liveable, connected, prosperous, resilient and responsible future.
The new Downtown Plan is a 25-year vision that sets the direction for the city centre as the cultural, civic, retail and economic heart of Toronto and as a great place to live. A series of goals – grouped around the themes of complete communities, connectivity, prosperity, resiliency and responsibility – establish outcomes the Downtown Plan intends to achieve as growth continues.
 The proposed Downtown Plan provides detailed direction on the appropriate scale and location of future growth. It also links this growth with infrastructure provision to ensure the creation of 'Complete Communities'. Other significant policy directions in the Downtown Plan include:
Expansion of the Financial District and establishment of a Health Sciences District where non-residential uses will be prioritized;
Refinement of the current single Mixed Use Areas designation into 4 Mixed Use Areas designations to provide clear guidance on the appropriate scale of development based on existing and planned context;
Requirement for the submission of a Complete Community Assessment to ensure all developments contribute to the creation of liveable and complete communities;
Requirement for all developments to address the priorities contained within the Downtown Community Services and Facilities Strategy;
Protection of Downtown parks and open spaces by ensuring no net-new shadow;
Increased building setbacks to expand the public realm in areas of growth;
Prioritization of a "Land First" approach to maximize opportunities for new parkland through the development process, along with incentives for developers to work together to consolidate the provision of parkland;
Creation of a Parks and Public Realm Plan to improve the quality and connectivity of public spaces, and to identify parkland improvement and acquisition priorities;
Prioritization of walking, cycling and transit use on Downtown's streets;
Requirements for 2- and 3-bedroom units and affordable housing in most developments, along with protection of dwelling rooms;
Retention of cultural spaces and support for live music and filming;
Encouragement of low-carbon and resilient infrastructure and buildings; and
Partnerships with Indigenous communities, stakeholder groups and community groups as part of implementation.
The recommended Official Plan Amendment for the Downtown Plan will be brought forward in the second quarter of 2018. In addition, five infrastructure strategies – community services and facilities, parks and public realm, mobility, energy, water – will be released in draft for public and stakeholder consultation later in 2017.
The proposed Downtown Plan represents the first comprehensive update since the mid 1970s. The 1976 Central Area Plan introduced mixed-use policies that encouraged residential growth Downtown and helped Toronto avoid the inner city deterioration experienced in many other urban centres across the continent. Since then, updates to the planning framework have shaped Toronto's Downtown into one of the most successful in North America.
Toronto's high quality of life and economic opportunities have made it one of the fastest growing cities in North America, and nowhere is this more evident than in the rising Downtown skyline. Downtown accounts for only 3% of Toronto's land area, yet it makes up 40% of the non-residential gross floor area and 38% of the residential units proposed in the entire city. It is Canada's largest employment cluster with over 500,000 jobs, relying on Union Station and the subway system to provide access to a regional workforce. Close to 240,000 people live Downtown, with more than 7,500 residents added annually over the past 5 years. By 2041, Downtown has the potential to reach between 850,000 to 915,000 jobs, and as many as 475,000 residents.
By initiating the TOcore study in 2014, Council recognized that growth was outpacing the City's ability to secure the necessary supporting infrastructure. In late 2016, the TOcore Proposals Report was adopted by Council. That report outlined the detailed policy directions for all aspects of the Downtown Plan and served as the basis for extensive public and stakeholder consultation earlier in 2017.
The Study area is bounded by Lake Ontario to the south, Bathurst Street to the west, the mid-town rail corridor and Rosedale Valley Road to the north and the Don River to the east.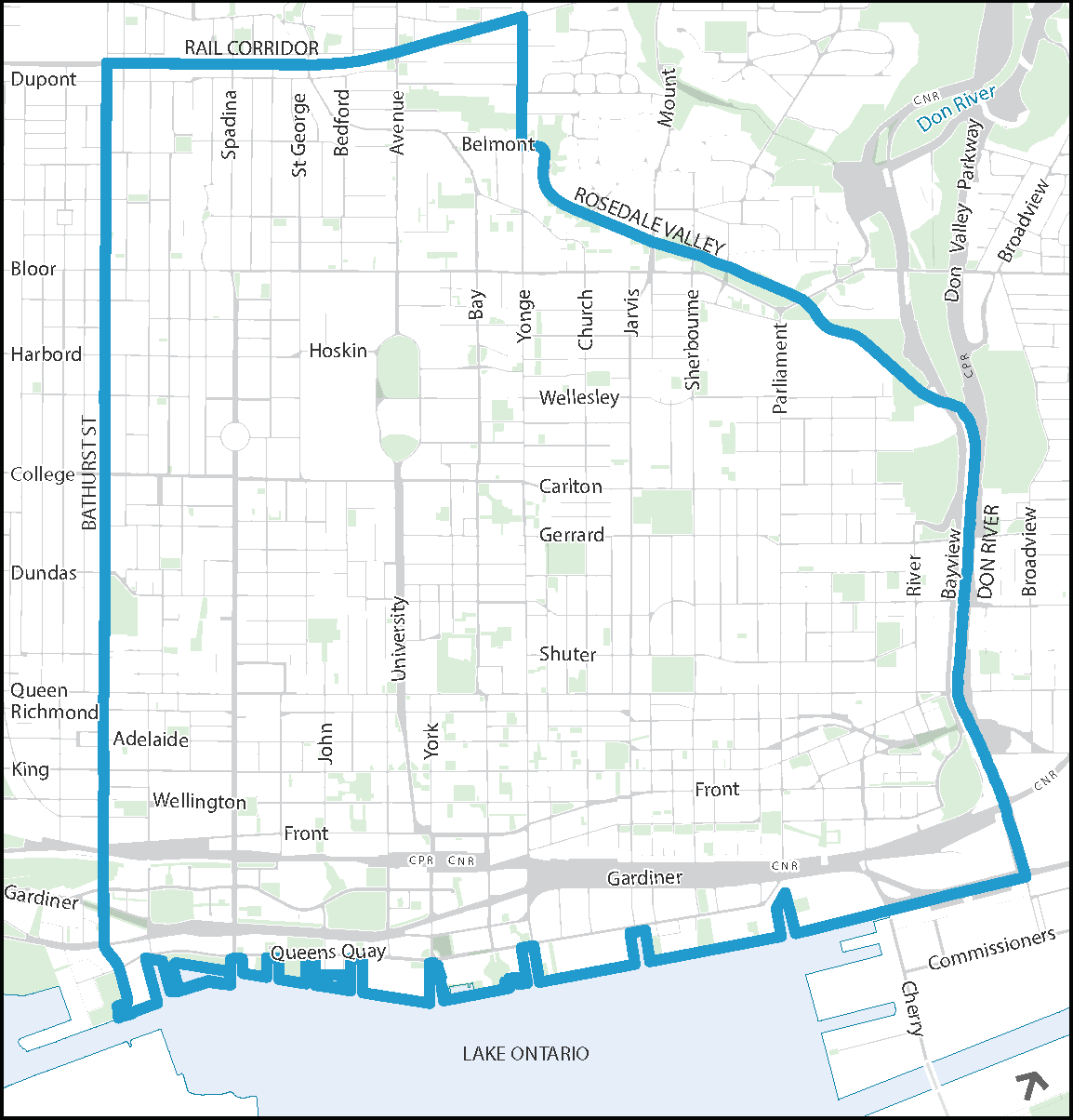 TOcore consists of four phases. The project is currently in Phase 3.